Duke Cancer Center North Durham
What to Expect at Your Appointment
Announcements
Face masks are required at this location. Keeping everyone safe and well is our top priority. We appreciate your support of our efforts. Learn more.
As a new patient at Duke Cancer Center North Durham, you probably have questions as you prepare for your first appointment. Our goal is to make your visit as stress-free as possible so that you can focus on what's important -- your health.  The information below provides details on your first visit, including how to prepare, where to go, and who you'll meet.
When You Arrive
Parking
Our center is located on the second floor of Duke Regional Hospital. Parking is free and conveniently located right outside the Cancer Center entrance.
Checking In
When you arrive, you will check in and register at the front desk. You will be asked to show your photo ID and insurance cards and pay your required copay(s).
Keeping Comfortable at Your Appointment
Appointment Length
You may have several appointments your first day. They may include lab tests, imaging, and procedures such as a biopsy. These tests take place right outside our center, on the same floor.
What to Bring
For your comfort, you are encouraged to bring a sweater or light jacket, reading material, a laptop or mobile device, and pen and paper to take notes. Free wireless internet service is available throughout the building. Also, bring all medicines, vitamins, and supplements in their original containers as well as your insurance information. Feel free to bring a snack or beverage as needed.
One family member or friend may accompany you to your appointment to participate in the discussion. They may hear something you missed, think of different questions to ask, or assist by taking notes. Additional family members may join your appointment via phone or video. Please note that visitor restrictions are in effect.
Screening and Diagnostic Testing
You may be scheduled for one or more of the following tests. They may be performed to screen for cancer, make a diagnosis, or pinpoint the stage and location of your cancer. These tests are performed in the hospital on the same floor as our center.
Screening and diagnostic 3-D mammograms (digital breast tomosynthesis)
CT scans for evaluation and treatment planning
Biopsies, including ultrasound and stereotactic biopsies
Our surgeons also evaluate abnormal imaging results and provide second opinions.
Your Cancer Care Team
Your team will include many different health care providers. Depending on your diagnosis, you will be seen by a cancer specialist who will discuss your diagnosis, treatment options, and next steps. In most cases, subsequent visits are shorter and will involve a review of your medication and symptoms.
Surgical Oncologists
If your cancer care includes surgery to remove cancer, you will meet with a cancer surgeon. Your surgical consultations and post-operative appointments take place in or close to our office. All surgeries take place nearby at Duke Regional Hospital or the Davis Ambulatory Surgery Center.
Medical Oncologists
These cancer specialists manage chemotherapy, immunotherapies, and targeted treatments when they are part of your cancer treatment plan. Your treatments will take place in our clinic infusion center.
Radiation Therapy Team
Our mission is to provide compassionate, innovative, high-quality radiation treatment in the safest possible manner. Our radiation oncologists, medical physicists, dosimetrists, and therapists develop and deliver treatment and collaborate closely with your surgical and medical oncology team to help ensure the best outcomes. Our advanced technologies and overall approach ensure we deliver appropriate radiation doses to tumors and at-risk areas while minimizing radiation exposure to your normal, healthy tissues.
Nurse Practitioner and Physician Assistant
At your first appointment, a nurse practitioner or physician assistant may discuss your health history and ask questions to create a detailed summary of your diagnosis and treatment history.
Registered Nurses and Certified Medical Assistants
A certified medical assistant will take your vital signs and gather information for your visit. The nurse will educate you and your family about your cancer and planned treatments. At each appointment, you will see the same nursing team. This approach gives you a consistent point of contact for questions and concerns that arise outside of the clinic.
Other Team Members
You may also interact with therapists, pharmacists, social workers, and other cancer-specific caregivers who support you during your cancer treatment. If your doctor determines that you will benefit from genetic counseling, your team will review whether genetic testing should be performed to determine your cancer risk.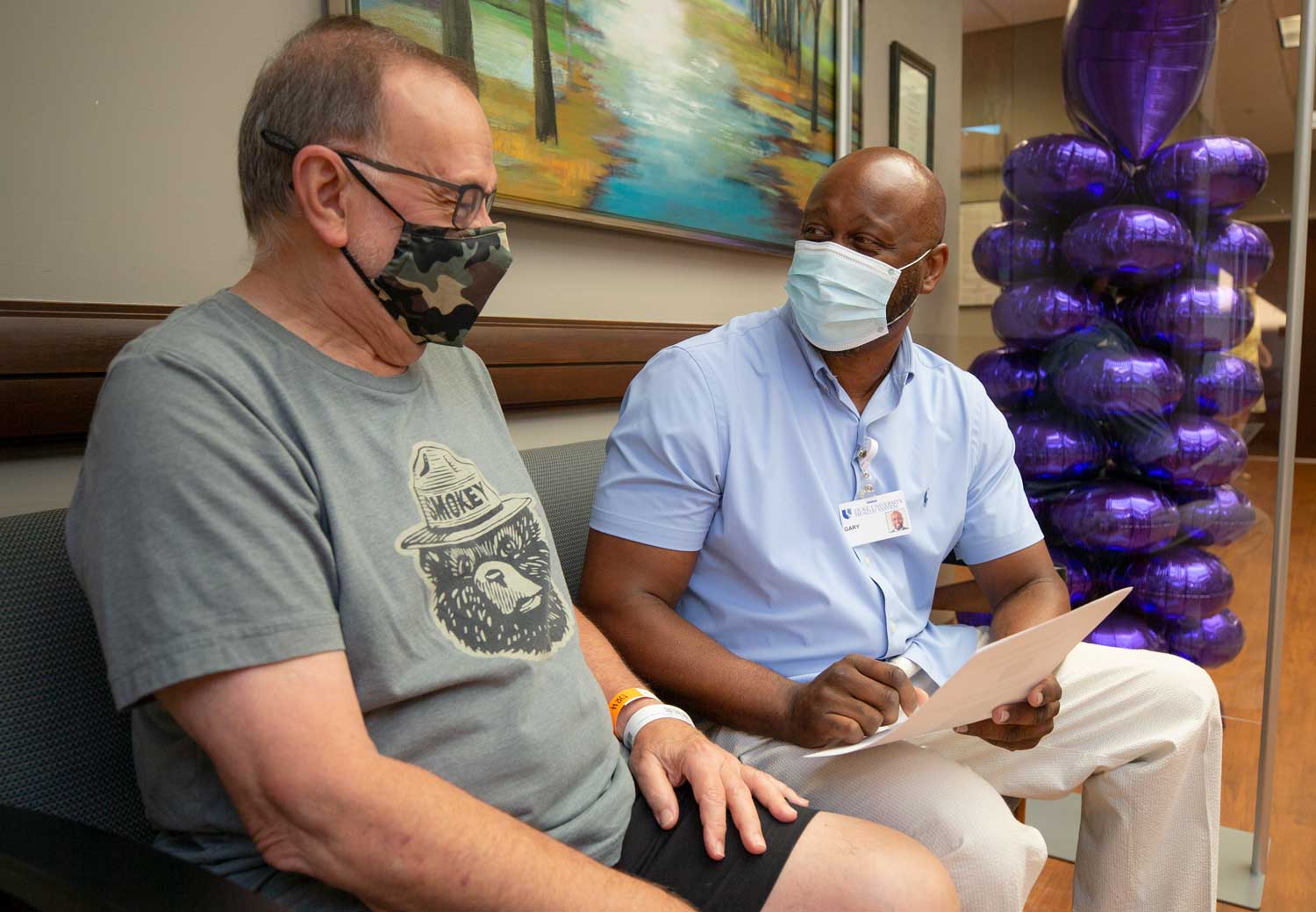 Virtual Visits
Some follow-up visits, after surgery, for example, may be virtual visits. This means you will meet with your cancer specialist using video on a computer or mobile device with a camera.