Duke Cancer Center Raleigh
What to Expect
Announcements
Face masks are required at this location. Keeping everyone safe and well is our top priority. We appreciate your support of our efforts. Learn more.
As a new patient at Duke Cancer Center Raleigh, you may have questions as you prepare for your first appointment. Our goal is to make your visit as stress-free as possible so that you can focus on what's important -- your health. The information below provides details on your first visit, including where to park, how to prepare, where to go, and who you'll meet.
When You Arrive
Parking
We ask that you arrive about 30 minutes before your first appointment to allow enough time for parking, walking to the clinic, and checking in. You should park in the P2 Parking Garage, a free garage that is most convenient to the Duke Cancer Center Raleigh clinics.
Checking In
Our clinics are in 3404 Wake Forest Rd. When you arrive, you will check in and register at the front desk. You will be asked to show your photo ID and insurance cards and pay your required co-pay(s). 
Learn more about navigating Duke Raleigh Hospital, including current construction zones.
Staying Comfortable at Your Appointment
Appointment Length
Your first visit may last several hours. This provides time to complete required lab tests, imaging studies, and procedures such as a biopsy. You'll also have time to ask your provider any questions. Additional testing may be scheduled for a later date.
What to Bring
For your comfort, you are encouraged to bring a sweater or light jacket, reading material, a laptop or mobile device, and a pen and paper to take notes. Free wireless internet service is available throughout the building. Bring all medicines, vitamins, and supplements in their original containers, as well as your insurance information. Please check with your doctor's office before bringing food; some tests restrict eating or drinking beforehand.
One support person may accompany you to your appointment to participate in the discussion. However, please note that visitor restrictions are in effect. They may hear something you missed, think of different questions to ask, or assist by taking notes. Additional family members may join your appointment via phone or video.
Your Cancer Care Team
Your team will include many different health care providers. You will be seen by a cancer specialist who will discuss your diagnosis in detail, treatment options, and next steps. In most cases, subsequent visits are shorter; your team will review your medication and symptoms. Along with your cancer specialist, you'll visit with a nurse practitioner or physician assistant. Here's an example of some of the many people you will meet during your appointments.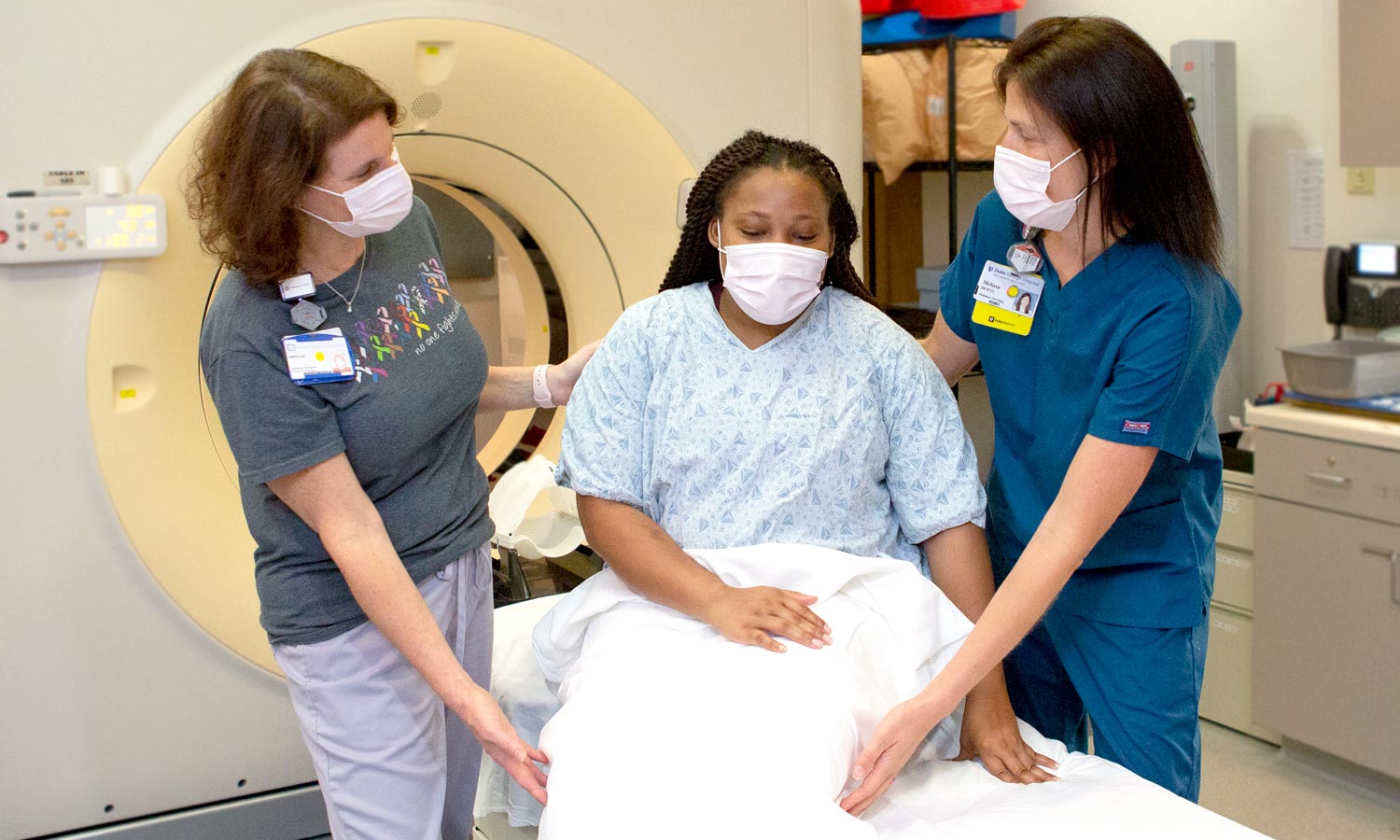 Surgical Oncologist
If your cancer care includes surgery to remove the cancer, you will meet with a surgical oncologist.
Medical Oncologists
These cancer specialists manage chemotherapy, immunotherapies, and targeted treatments when they are part of your cancer treatment plan.
Radiation Oncologists
Radiation oncologists use intense beams of energy (X-rays) to destroy cancer cells. Targeted and shortened courses of radiation therapy may be used as a standalone treatment or in combination with other therapies in order to shrink tumors before or after surgery. Our radiation oncologists use techniques to minimize radiation exposure to your normal healthy tissues.
Palliative Care Specialists
Our palliative care experts are available to meet the emotional, physical, and spiritual needs of you and your loved ones during your cancer treatment. We work with you and your family to navigate the health care system and provide guidance on treatment choices.
Plastic Surgeons
If you are a candidate for reconstruction surgery, our board-certified plastic surgeons will help you understand your options and recommend the best procedure for you.
Oncology Nurse Navigator
A nurse navigator will be your single point of contact during your cancer journey and will guide you through testing, treatment, surgery, and beyond. They can coordinate appointments with your cancer care team, educate you and your family, and help identify and overcome barriers to cancer treatment, whether that's transportation, housing, or financial concerns.
Nurse Practitioner and Physician Assistant
Nurse practitioners and physician assistants may participate in your cancer care throughout your journey, from your first consultation and helping you manage your symptoms, to when you are ready for long-term follow-up.
Registered Nurses and Certified Medical Assistants
A registered nurse will educate you and your family about your cancer and planned treatments. At each appointment, you will see the same nursing team. This approach gives you a consistent point of contact for questions and concerns that arise outside of the clinic. A certified medical assistant will help guide you through your clinic visit. Both roles are meant to support your clinical needs during each and every visit.
Speech Pathologists 
Cancer and cancer treatments can damage your ability to speak and swallow, which can significantly affect your quality of life. Our specialized speech-language pathologists offer speech therapy services to help improve your ability to communicate and swallow safely during and long after cancer treatment.
Other Team Members
You may also interact with family therapists, dietitians, psychologists, social workers, and other cancer-specific caregivers who support you during your cancer treatment. You may see a medical resident or fellow pursuing specialty training. They work closely with other members of your health care team. A financial care counselor can answer questions about billing and insurance.
Test and Treatments
You may come to our clinics for one or more of the following tests. They may be performed to screen for cancer, to make a diagnosis, or to pinpoint the stage and location of your cancer.
Blood tests
CT scans for evaluation and treatment planning
Ultrasounds
Biopsies 
Virtual Visits
It is possible that some follow-up visits may be virtual, including appointments after your surgery. This means you will meet with your cancer specialist using video on a computer or mobile device with a camera. This appointment may be with a nurse practitioner, physician assistant, or doctor. Typically, these appointments are for follow-up care or for people who live far from Duke Cancer Center Raleigh.