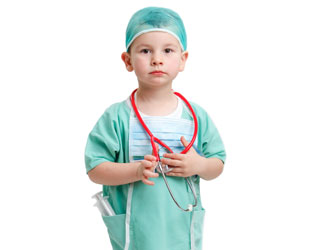 Children who have hormone-related conditions that affect metabolism, growth, and development need an experienced team of pediatric endocrinologists and other specialists who can provide comprehensive care. Our team treats the full range of hormone- and endocrine-related conditions, including diabetes and thyroid disease. We also provide specialized care for puberty disorders, gender-related conditions, and more. Our goal is to help your child live with and manage their condition as they grow to adulthood.
Find a Pediatric Endocrinology Doctor
Duke Health offers locations throughout the Triangle. Find one near you.
Family-Friendly Services
If your child has a lifelong condition like diabetes or needs complex care that affects their growth and development, it can be hard for the entire family. We offer a variety of family-friendly services to explain what's happening -- to your child and their siblings -- and offer emotional support to the entire family.
Access to Ronald McDonald House Family Room
If your child is in the hospital, you can relax in the Ronald McDonald House Family Room. You can grab a light meal, shower, do laundry, or use a computer with internet access.
Child Life Specialists
Our child life specialists offer support, education, and guidance to help you and your child during treatment and hospitalization. They are here to make your child's health care experience easier -- whether it's explaining a procedure, offering encouragement, or using fun activities to take your child's mind off treatment.
Social Workers and Counselors
We can help you navigate the medical system and will coordinate the variety of health services your child needs. Our social workers can help you work with insurance providers, connect you with resources, and help you manage the details related to your child's care.
Why Choose Duke
Specialized Care
We are one of the few centers in the Southeast offering specialized care for children with lipid disorders, thyroid disease, gender disorders, obesity, and osteogenesis imperfecta (a children's bone disease).
A Team of Specialists
Your child's endocrinologists work with a wide range of pediatric specialists -- from experts in kidney disease, urology, and cancer to psychologists, genetic counselors, gender care specialists, and more. We make sure your child gets complete care.
Expert Care for Children
Children who need hospitalization are cared for by teams that specialize in taking care of young patients and supporting families. This includes our pediatric intensive care unit (PICU) and neonatal intensive care unit (NICU), whose experts are skilled in providing compassionate, round-the-clock care to the youngest and most critically ill children. Our pediatric endocrinologists work closely with hospital-based team members to provide your child seamless care.
Follow Your Child's Journey
We help your child transition to adulthood. Our pediatric endocrinologists work collaboratively with specialists throughout Duke Health, so we make it easier for your older teen to transition to adult care and services.
Experts in Genetic Obesity Disorders
We are experts in evaluating and managing genetic obesity disorders, including Prader-Willi syndrome and other conditions that cause severe weight gain in early childhood. Our team includes a pediatric endocrinologist and nutritionists who work closely with sleep specialists, gastroenterologists, psychologists, and developmental pediatricians.
Access to the Latest Research
Our pediatric endocrinologists are also researchers. As an example, we were the first hospital to use insulin pumps for infants and toddlers with diabetes; we were also among the earliest to show the benefits of medicine in treating obese and prediabetic children.
Best Children's Hospital in NC
Duke Children's Hospital & Health Center is proud to be nationally ranked in nine pediatric specialties.