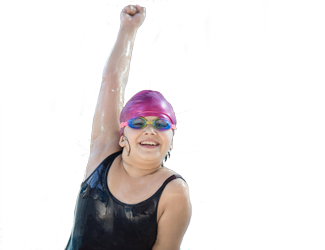 Children with excess body weight can have a range of health concerns, from asthma and sleep apnea to diabetes, high blood pressure, liver problems, and joint pain. They are prone to social and emotional problems, and some children may experience low self-esteem, anxiety, and depression. These problems can follow them into adulthood and put them at risk for heart disease and other serious chronic conditions.
Find a Weight Management for Children and Teens Doctor
Duke Children's Healthy Lifestyles and Bull City Fit
Duke Children's Healthy Lifestyles Program is a comprehensive weight management program for children and teens whose BMI is at or above the 95th percentile for their age. In addition to clinic visits, your family will receive a one-year membership to Bull City Fit, where trained staff will provide fun activities and peer support for the whole family. Helping your child adopt long-term healthy habits and prevent the health concerns associated with obesity is our program's goal.
Lifestyle Changes in Every Child's Treatment Plan
The Healthy Lifestyles Clinic's experts in medicine, nutrition, exercise, and behavior will help your family learn valuable and practical ways to eat healthier and become more active. We offer appointments five days a week, 8 am to 5 pm, to allow flexibility in scheduling. We recommend monthly check-ins at the Healthy Lifestyles clinic and at least twice-a-week participation at Bull City Fit. However, everyone has a different situation; we can modify this plan to fit your family's needs.
Free, Community-Based Wellness Program
Through our partnership with the city of Durham, we operate a free, community-based wellness program called Bull City Fit. Available only to Duke Healthy Lifestyles patients and their families, it provides a variety of fitness and instructional classes six days a week. Opportunities include sports, swimming, dance classes, fitness instruction, cooking classes, gardening, and support groups. This is a unique aspect of our treatment program, and many of our patients say it's the best part of the program! Bull City Fit is meant for the whole family; you may bring other children as well. Bull City Fit is open Mondays through Thursdays, 6:00 pm to 8:00 pm, and Saturdays and Sundays, 1:00 pm to 3:00 pm.
Duke Health offers locations throughout the Triangle. Find one near you.
A Personalized Approach to Weight Loss
Trying to eat healthy foods and exercise regularly can be frustrating and overwhelming. Maybe you're not sure how to help your child, or perhaps your child has already tried to make changes without success. We help you understand the changes that need to take place and work with you and your child to identify and reach your health goals.
We Tailor Your Child's Treatment
There is no one-size-fits-all solution to weight loss. That's why our team of experts uses a tailored approach that's unique to your child's needs. When creating your child's nutrition and exercise plan, we'll consider what strategies you've tried in the past, whether your child has medical complications that need treatment, and your child's personal preferences and goals.
Medically Supervised Diets and Weight-Loss Medications
Some of our patients need support that goes beyond lifestyle modification. Your child's treatment may also include a medically supervised eating plan. If that is the case, your child will receive guidelines, sample menus, recipes, and one-on-one support. In certain circumstances, we may also prescribe medications to help support healthy weight loss.
When Weight Loss Surgery Is Considered
Weight loss surgery may be an option for some children ages 14 and older. We work closely with weight loss surgeons at Duke to prepare children who qualify for bariatric surgery. Duke is home to North Carolina's only accredited adolescent weight loss surgery program.
Why Choose Duke
Convenient Care in One Visit
Our team includes pediatricians, physician assistants, nurse practitioners, registered dietitians, physical therapists, and mental health providers who are all conveniently located in one clinic. Your child can receive the care he or she needs from these different specialists during a single appointment.
Comprehensive Evaluations
Our comprehensive evaluations can rule out or identify medical conditions that can predispose children to weight gain, including hypothyroidism, hormone problems, and rare genetic disorders.
Referrals to Pediatric Specialists
If a medical concern that we can't address is identified, we coordinate your child's care with other Duke Health specialists. Depending on the concern, the specialists may include pediatric cardiologists, endocrinologists, gastroenterologists and liver specialists, nephrologists, sleep disorder experts, and orthopedic specialists.
Best Children's Hospital in NC
Duke Children's Hospital & Health Center is proud to be nationally ranked in nine pediatric specialties.
Reviewed: 04/08/2020