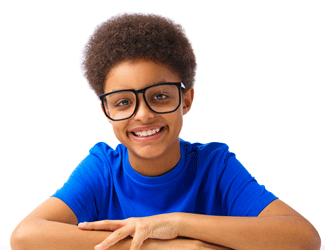 Diagnosing and managing glaucoma in children requires child-appropriate examination techniques and child-specific surgeries and medications because infants and young children are not simply small adults. Families bring their children from across the U.S. and from other countries to seek care for their child's glaucoma at Duke. Our goal is for your child to achieve the best outcome possible, despite the challenges of managing childhood glaucoma.
Find a Pediatric Ophthalmologist
About Childhood Glaucoma
Childhood glaucoma refers to a group of disorders that result in high pressure in the eyes due to excess fluid. Left untreated, glaucoma can cause permanent vision loss and even eye disfigurement in infants and children. There are two types of childhood glaucoma, primary and secondary.
Primary congenital glaucoma is the most common type of primary childhood glaucoma. In most cases, it is diagnosed at birth or in the first year of life. It usually changes the appearance of the eyes.
Juvenile glaucoma is another type of primary childhood glaucoma. It is often diagnosed in children who are being treated for myopia (near-sightedness) and are found to have very high eye pressure or damaged optic nerves. Otherwise, there may be no symptoms.
Secondary childhood glaucoma occurs as a complication of an underlying eye condition such as uveitis, trauma, or removal of a cataract a child was born with. It can also result from a condition such as neurofibromatosis or Sturge-Weber syndrome.
Tests
Your child's glaucoma specialist will conduct a thorough examination of your child's eyes. If your child is comfortable and able to cooperate, the tests may be performed in the office. If your child cannot fully cooperate with needed testing, the exams may be performed under anesthesia and immediately followed by appropriate surgical treatment, if necessary.
Tonometry
This test measures eye pressure. Several devices may be used; however, the newest instrument -- the iCare rebound tonometer -- has been extensively studied at Duke for its usefulness in evaluating children with known or suspected glaucoma. Because it does not require an eyedrop to numb the eye before measuring eye pressure, this device is well suited for in-office use with infants and children.
Optical Coherence Tomography (OCT)
OCT uses light to create a 3D image of structures within the eye, including the retina and optic nerve. The images are used to measure the thickness of the nerve fiber layer around the optic nerve so that it can be tracked over time to assess for damage from glaucoma. Since many children are unable to participate in accurate testing of their peripheral vision, OCT is a powerful tool for monitoring optic-nerve health in children with known or suspected glaucoma. Handheld OCT recently became available for use in the operating room and may soon prove useful for evaluating optic-nerve health in infants and children too young to have traditional imaging and peripheral-vision testing.
Perimetry (Visual Field Testing)
This measures the peripheral vision (also called the visual field) in each eye. During the test, your child looks straight ahead while lights flash at various levels of brightness in their side vision. The test allows doctors to detect defects in the visual field. It is used to diagnose and to determine the progression of glaucoma. It is only suited for children who are mature enough to concentrate and whose central vision is good enough to fixate on the central target during testing.
Gonioscopy
A small contact lens is placed on the surface of the eye to view the outflow pathway (the angle structures) of the eye. This test can be done with or without anesthesia. The detailed structure of the outflow pathway allows the doctor to determine the best surgical treatment for your child's glaucoma.
Ultrasound
Sound waves are used to measure the thickness of the cornea and the length of the eye. The waves create images of the vitreous, the retina, and any glaucoma drainage implants that have been placed in the eye.
Caring for Children with Glaucoma
Internationally Recognized Experts
Duke is one of only a handful of eye centers in the U.S. with internationally recognized experts who provide comprehensive care to children with glaucoma. Our board-certified, fellowship-trained glaucoma specialists and pediatric ophthalmologists travel internationally to lecture and teach courses on treating and managing childhood glaucoma. Our extensive experience and knowledge mean your child is cared for by some of the nation's most respected glaucoma specialists.
A Team Approach
Caring for children with glaucoma often requires a long-term team effort involving ophthalmologists, pediatricians, low-vision educators, social workers, and other therapists. Glaucoma in children can affect other parts of the eye and cause vision loss from amblyopia, corneal scarring, and strabismus. Our team specializes in treating these and other eye conditions in children.
Latest Treatment Advances
We use the latest effective medical and surgical treatments to control glaucoma in children and to manage other eye disorders often associated with childhood glaucoma.
Powerful Imaging Devices
Our advanced imaging technologies include optical coherence tomography (OCT), which provides 3D views of the eye's internal structures, including the retina and the optic nerve. Researchers in Duke's Pediatric Retina and Optic Nerve Imaging Center are pioneering new uses for this noninvasive technology, including using it to care for eye disorders in premature infants.
Compassionate, Supportive Environment
We offer patient and family support services, including educational materials and programs, a low-vision rehabilitation program, and a dedicated social worker to help your entire family cope with the management of your child's glaucoma.
Dedicated Surgical Suite
Our skilled surgeons work closely with anesthesiologists and surgical nurses who are trained and experienced in caring for children with eye conditions. We are expertly equipped to care for and treat complex and multiple eye problems, including retinal and corneal diseases.
Promising Research
We are studying advances in the diagnosis and treatment of childhood glaucoma using existing therapies. We also collaborate with specialists at Duke and apply new technologies to the care of children with childhood glaucoma as soon as they are shown to be safe and effective.
Best Children's Hospital in NC
Duke Children's Hospital & Health Center is proud to be nationally ranked in nine pediatric specialties.
Reviewed: 05/22/2020