From the DukeHealth.org archives. Content may be out of date.
Run/Walk to Support Brain Tumor Research
Clara Guy, with her baby Abby, her husband Jason, and their older daughter, Emily
Overview
Clara Guy will never forget the day doctors diagnosed her with an aggressive brain tumor and told her she had 18 months to live. Today, the mother of two is a prime example of what brain tumor research can accomplish. Guy is feeling great, and helping to raise funds for research at Duke's Preston Robert Tisch Brain Tumor Center. Her goal is to help the researchers "keep finding cures and answers," she said.
Brain Tumor Diagnosed During Pregnancy
Content
Clara Guy of Morrisville was nine months pregnant in 2012 when frequent, severe headaches sent her to the doctor for a check up. "At first they thought it was side effects of the pregnancy," she recalled. An MRI confirmed she had a brain tumor called astrocytoma.
"They did a C section on my due date, and two days later I had brain surgery."
The tumor returned in 2013, only this time she was diagnosed with stage 4 glioblastoma. "Instead of giving me a solution, they gave me a sentence," Guy recalled. She was given six to 18 months to live. It was time to switch doctors.

Callout
She gave hope to my husband, my mother, my family. When they heard her talking, they said, 'this is great.'
First Glimmer of Hope
Content
Through her research, Guy discovered the Tisch Brain Tumor Center. After meeting with neuro-oncologist Gordana Vlahovic, MD, Guy felt the first glimmer of hope.
"She said, 'we can do this,'" Guy said. "She gave hope to my husband, my mother, my family. When they heard her talking, they said, 'this is great.'  It was terrific to have that encouragement."
After neurosurgeon Allan Friedman, MD, removed her brain tumor, Guy endured radiation and chemotherapy to kill any remaining cancer cells. She also enrolled in a clinical trial, and started receiving monthly injections of small, harmless components of the tumor. The immunotherapy acts like a vaccine, teaching Guy's immune system to target and kill only the cancer cells, while ignoring her healthy cells.
The R Word: Remission
Content
Eighteen months after receiving that "sentence," Guy is using what she calls "the R word for remission. Once you hit stage 4 it's a different category. Just being a monitored patient, where I don't have to go every week and it doesn't have to be the main focus of my every day is important. I'm in a stable spot."

Callout
When you get any type of cancer it scares you to death. You go to an Angels Among Us event and the people are hopeful."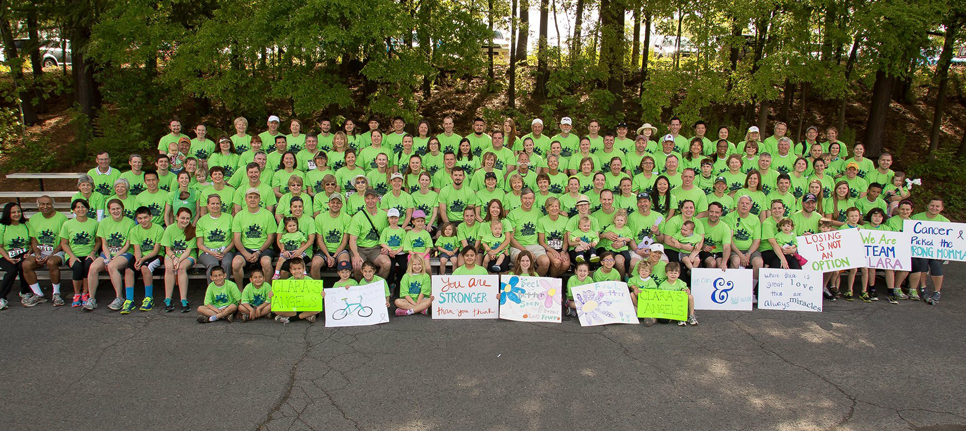 Fundraising for a Solution
Content
Today, Guy is working fulltime as a residential and commercial interior designer, and raising her two young daughters with her husband. And, she's getting ready to participate in her second 5k run and 3k walk organized by Angels Among Us, a local group that raises funds for brain tumor research at Duke.
"This was something that gave me hope as I was going through treatment," Guy said. "I met people who are survivors as well as researchers. I met people who had seen my name on the side of a tube in the lab. They'd say, 'you're Clara! I worked with your cells! I met the people who put this research together to find a solution, rather than that sentence."
The annual run/walk also offers encouragement. "When you get any type of cancer it scares you to death. You go to an Angels Among Us event and the people are hopeful. There are some of us who are halfway bald, but we are hopeful. To get that much encouragement is inspiring."
Guy's team of family, friends and others raised just over $32,000 for Duke research last year, and hopes to raise $40,000 this year. "This is how we can help," she said. "We can help them continue to find cures and answers."