People who struggle to lose weight and want -- but do not qualify for -- weight loss surgery, may benefit from our medical weight loss program. We combine professional guidance on lifestyle changes with management of prescription weight loss medications. This temporary tool reduces hunger and cravings, and can help you reach your weight loss goals.
Our Doctors
Meet the team of specialists who will support you throughout your medical weight loss program.
Find a Medical Weight Loss Doctor
Candidates for Medical Weight Loss
There are several scenarios when medical weight loss may be recommended.
BMI Too Low
If your current weight or BMI places you in the category of obesity, but you do not quality for weight loss surgery, your doctor may recommend a medical weight loss program. You may not qualify either because your BMI is too low (35 and under) or because you do not also have diabetes, heart disease or other chronic medical problems typically associated with obesity. Medical weight loss may eliminate the need for surgery.
Before Weight Loss Surgery
Sometimes, the lifestyle changes that are required before weight loss surgery can be overwhelming. Medical weight loss can ease the transition. It is not considered a long-term fix; rather, it can get you on track with new eating and exercise habits.
BMI Too High
A BMI that is too high (60 and above) may put you at risk for surgical complications, and lowers the likelihood that you will experience a positive outcome. Medical weight loss can help you lose weight and lower your BMI, which can lower your risk for surgery.
After Weight Loss Surgery
There may be points in your life after your surgery when you feel stressed, or pay less attention to maintaining healthy habits. At these times, weight gain can occur. Medical weight loss and consultations with our experts can help during this time. We help you get back on track.
Attend a Free Information Session Online
Learn more about obesity and weight loss surgery at one of our free information sessions.
Program Components
Regular Appointments
You'll meet regularly with our physician assistants and dietitians. Together, we help you restart healthy eating and exercise habits. We also advise you on how to manage stress, get enough sleep, and cope with other factors that can affect hunger and cravings that lead to weight gain.
Prescription Medication
You may be prescribed one of five weight loss medications approved by the FDA for long-term use. While each act on the body in a different way, all five have proven effective in helping people lose weight when they are taken in combination with healthy eating and exercise habits. One may work better for you than another. Side effects, such as nausea, headache and mood changes, can occur. We will counsel you on the benefits and risks before prescribing any medication.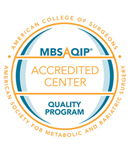 Bariatric Center of Excellence
Duke Regional Hospital is accredited by the American Society for Metabolic and Bariatric Surgery for its high standards of care in weight loss surgery.
Reviewed: 05/07/2019