Participating Dogs Are Therapy Certified
Paragraph(s)
Therapy dogs reside with their owner and complete additional testing on-site before being accepted to the Pets at Duke team.
Improving Quality of Life With Grant Help
Paragraph(s)
The Duke Cancer Patient Support Program and PetSmart Charities know that pets have the remarkable ability to reduce feelings of stress and anxiety, improve our mood and bring us unconditional love.  That's why, with the help of a $25,000 grant from PetSmart Charities, Pets at Duke is aiming to improve quality of life and provide a healthy diversion from the usual hospital routine for children while receiving treatment.
With this grant, we will have the ability to expand the existing pet therapy program in pediatrics to provide more visits to hospitalized children and their families. Additionally, we will pilot pet therapy visits in outpatient clinics.  Pets at Duke anticipates serving more than 5,000 patients and their families over the next year.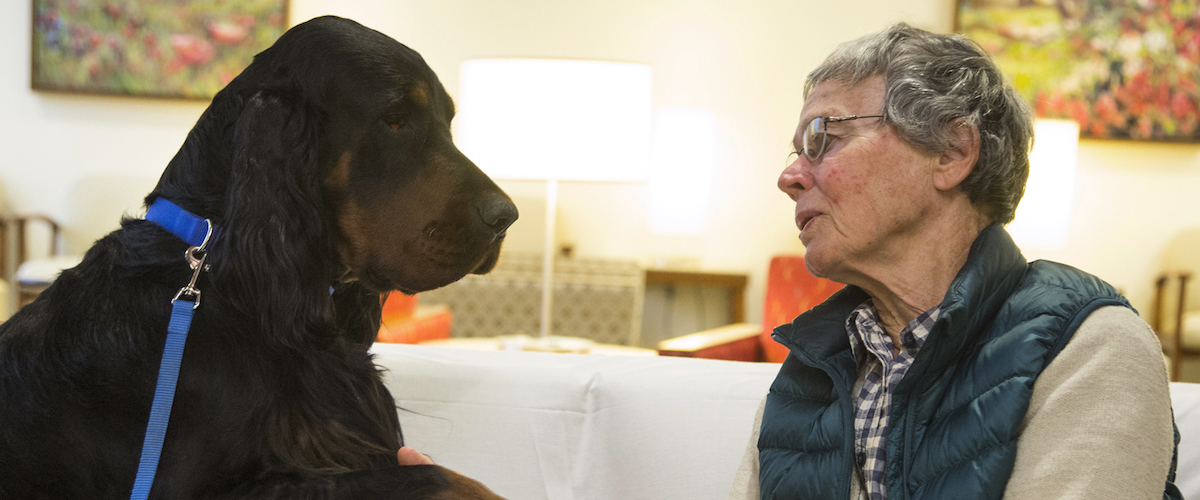 Pets at Duke Serve the Following Areas
Paragraph(s)
Duke University Hospital
Inpatient Adult Oncology
Inpatient Pediatric Oncology
Pediatric Intensive Care Unit and Pediatric Cardiac Intensive Care Unit
Duke Cancer Center
Duke Cancer Center Radiation Oncology clinic - 0-0
Duke Cancer Center Gynecology/Oncology clinic - 2-2
Duke Cancer Center clinics (Brain tumor, GI, Thoracic) - 3-1 and 3-2
Duke Cancer Center Oncology treatment rooms
Duke Cancer Center Raleigh
Duke Cancer Center Raleigh Infusion  
Duke Cancer Center Raleigh Radiation Oncology 
Duke Women's Cancer Care Raleigh
Duke Women's Cancer Care Raleigh Infusion 
Community setting
Hock Inpatient Hospice Facility
Additionally, Pets at Duke visit most areas of the hospital on a referral basis.  These visits are based on handler/dog team availability.