Pediatric Neuromuscular Disease
Care for Children with Duchenne Muscular Dystrophy and Other Neuromuscular Disorders
Call for an Appointment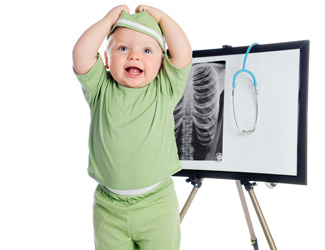 Children with neuromuscular diseases, such as Duchenne muscular dystrophy and spinal muscular atrophy, have varied needs that change with age and disease progression. In addition to strength and mobility problems, children can develop lung, heart, skeletal, and digestive conditions. Duke offers comprehensive care to treat these conditions and help maintain your child's level of motor function as long as possible. We help children reach their full potential at home, in school, and in the community.
Find a Pediatric Neuromuscular Disease Doctor
What Are Neuromuscular Diseases?
Neuromuscular diseases include hundreds of different disorders that affect the nervous system and cause progressive muscle weakness. They include:
Muscular dystrophies
Charcot-Marie-Tooth disease
Spinal muscular atrophy
Myasthenia gravis
Mitochondrial disorders
Because neuromuscular diseases can affect so many body systems, we personalize your child's care. Our team of experts addresses their specific needs and includes a pediatric neurologist, pediatric pulmonologist, pediatric cardiologist, physical and occupational therapists, a nutritionist, and a social worker. We also collaborate with pediatric-specific experts in endocrinology, orthopedic surgery, gastroenterology, genetics, and others as needed.
Lenox Baker Children's Hospital is our primary location. You may have appointments at several other Duke clinics.
Ongoing Care
There is currently no cure for neuromuscular diseases; treatment targets your child's specific symptoms to slow disease progression and improve quality of life. For your convenience, the majority of your child's care is all in one place -- on one floor -- at Duke's Lenox Baker Children's Hospital, which features attached parking and an entrance ramp. We also schedule your child's appointments on the same day whenever possible, to minimize the inconvenience of multiple trips.
Medications
Our team stays current with advancements in new and improved medicines for neuromuscular diseases. For instance, in some children with Duchenne muscular dystrophy, anti-inflammatory corticosteroid medication can slow muscle damage and weakness. We carefully monitor your child and recommend the right time to start -- or stop -- medication.
Physical and occupational therapy can improve range of motion and help maintain your child's strength, mobility, and independence. Our therapy evaluations and treatments take place in a gym -- not an exam room -- with ample room to play. High-school and medical-student volunteers often assist with gym play to make it more fun and improve your child's social interaction.
Orthotics and Assistive Devices
When appropriate, we recommend and train your child to use walking braces and mobility devices -- such as walkers, wheelchairs, and scooters -- to help maintain independence. We also introduce a variety of assistive technologies and assistive communication devices (for example, iPad apps) to keep your child engaged and connected with others.
Our pediatric pulmonologist performs pulmonary function testing to identify weakness in the muscles that help your child breathe. Treatments may include a cough assist machine, a noninvasive breathing support device (CPAP or BiPAP), or a ventilator in more severe cases.
The team's pediatric cardiologist looks for signs of heart muscle weakness and deterioration using electrocardiography, heart ultrasound, and heart MRI testing and may recommend cardiac medications.
Surgery
As your child grows and develops, your doctor may recommend surgery for complications as your child grows and develops, such as problems with the bones and joints or the digestive system. If your child needs surgery, you can be confident in Duke Children's, which has been verified as a Level I Children's Surgery Center by the American College of Surgeons. This designation recognizes our commitment to providing the safest and highest-quality surgical care to our young patients.
Disease Monitoring
Ongoing monitoring helps us identify early signs of problems that are common in children with neuromuscular diseases. We coordinate care with the right specialists, and we adjust your child's care for the highest possible physical, psychological, and social well-being. We often monitor children into young adulthood.
Family and Support Services
We know how caring for a child with a neuromuscular disease can change the family dynamic. We are here to answer your questions and make your time at Duke as easy and comfortable as possible.
Care Coordination and Support
Our nurse care coordinator and social worker help you navigate the medical system and coordinate the variety of health services your child needs. They can help you work with insurance providers, connect with resources, and manage the details related to your child's care. Our social worker can support your entire family adjust to a neuromuscular diagnosis, monitor your child's behavioral and developmental health, and assist with school support regarding modifications for your child.
Doctor visits and hospitals can be overwhelming and sometimes scary for children. Our child life team can enhance the care your child receives. They explain procedures in ways your child can understand, offer encouragement and emotional support, and use fun activities to take your child's mind off treatment.
Best Children's Hospital in NC
Duke Children's Hospital & Health Center is proud to be nationally ranked in nine pediatric specialties.
Expert Care for Your Child
Nationally Recognized Muscular Dystrophy Center
Duchenne muscular dystrophy is the most common and most severe form of muscular dystrophy. As a Certified Duchenne Care Center, a designation awarded by Parent Project Muscular Dystrophy, our center is recognized for meeting the highest standards in treatment and subspecialty services.
Specialists in Spinal Muscular Atrophy
We specialize in treating children with spinal muscular atrophy, a rare, potentially life-threatening disease that leaves many children unable to walk, eat by mouth, or breathe independently. We intervene early with babies, helping them with basic life functions such as breathing and swallowing, and follow them as they grow. We partner with families to align treatments with their values and goals. Duke has been designated a Care and Treatment Center by CureSMA -- a national patient advocacy organization pursuing a cure for spinal muscular atrophy (SMA). Also, our pediatric pulmonologist serves on the Medical Advisory Council for CureSMA. He helps set national medical guidelines for children with SMA.
Involved in the Latest Research
We are actively involved in the latest SMA and muscular dystrophy research. As a member of the Cooperative International Neuromuscular Research Group, we work with doctors and scientists throughout the United States and around the world who are studying neuromuscular diseases.
Access to New Therapies and Trials
We are actively involved in numerous clinical trials that are studying treatments for neuromuscular diseases. Your child's participation in a clinical trial may give them early access to innovative therapies and may also help other children with the same condition.
Reviewed: 04/17/2020