Duke Blood Cancer Center
What to Expect
Announcements
Face masks are required at this location. Keeping everyone safe and well is our top priority. We appreciate your support of our efforts. Learn more.
As a new patient at Duke Blood Cancer Center, you may have questions as you prepare for your first appointment. Our goal is to make your visit as stress-free as possible so that you can focus on what's important -- your health. The information below provides details on your first visit, including how to prepare, what to bring, where to go, and who you'll meet.
When You Arrive
Please arrive 30 minutes before your first appointment to allow time for parking, walking to the clinic, and patient registration. You will check in at the clinic front desk and will be asked for a copy of your photo ID and insurance and cards. At this time, you will pay your required co-pay(s). 
Children under the age of six and pets are not allowed at the Blood Cancer Center due to the risk of transmitting infections to our immunocompromised patients.
Staying Comfortable at Your Appointment
Appointment Length
Your first visit may last up to four hours to allow time for a complete evaluation. If you are being evaluated for a stem cell or bone marrow transplant, plan on spending up to six hours, as your appointment may include a meeting with a financial coordinator and a clinical social worker. Procedures such as a bone marrow biopsy may increase the length of your visit, so we encourage you to make any necessary childcare or pet care arrangements. 
What to Bring
Bring a sweater or light jacket, reading material, a laptop or mobile device, and paper and pencil to take notes. Free wireless internet service is available throughout the building. Bring all medicines, vitamins, and supplements in their original containers, as well as your insurance and pharmacy information and photo ID.
We encourage you to ask a family member or other support person to come with you to participate in the discussion with your health care team. They may hear something you missed, think of different questions to ask, or assist by taking notes. Please note that visitor restrictions are in effect.
Your Care Team
During your visits, you will meet with many people involved in your overall care. Depending on your health condition, these may include some or all of the following:
Nurse Navigator or Transplant Coordinator
The nurse navigator or transplant coordinator is your main point of contact for your health care team. They schedule appointments, help ensure that you are prepared for your treatment journey, connect you with additional resources at Duke and in the community, and more. 
Hematologist-Oncologist
Your hematologist-oncologist diagnoses and treats blood-related cancers such as leukemia, lymphoma, and multiple myeloma. This cancer specialist manages chemotherapy, immunotherapies, and targeted treatments when they are part of your cancer treatment plan.
Stem Cell Transplant and Cellular Therapy Specialist
This doctor is specially trained in harnessing the body's immune system to fight blood-related cancers and other life-threatening diseases. They care for people undergoing stem cell transplant or cellular therapy, often when other cancer treatments have failed.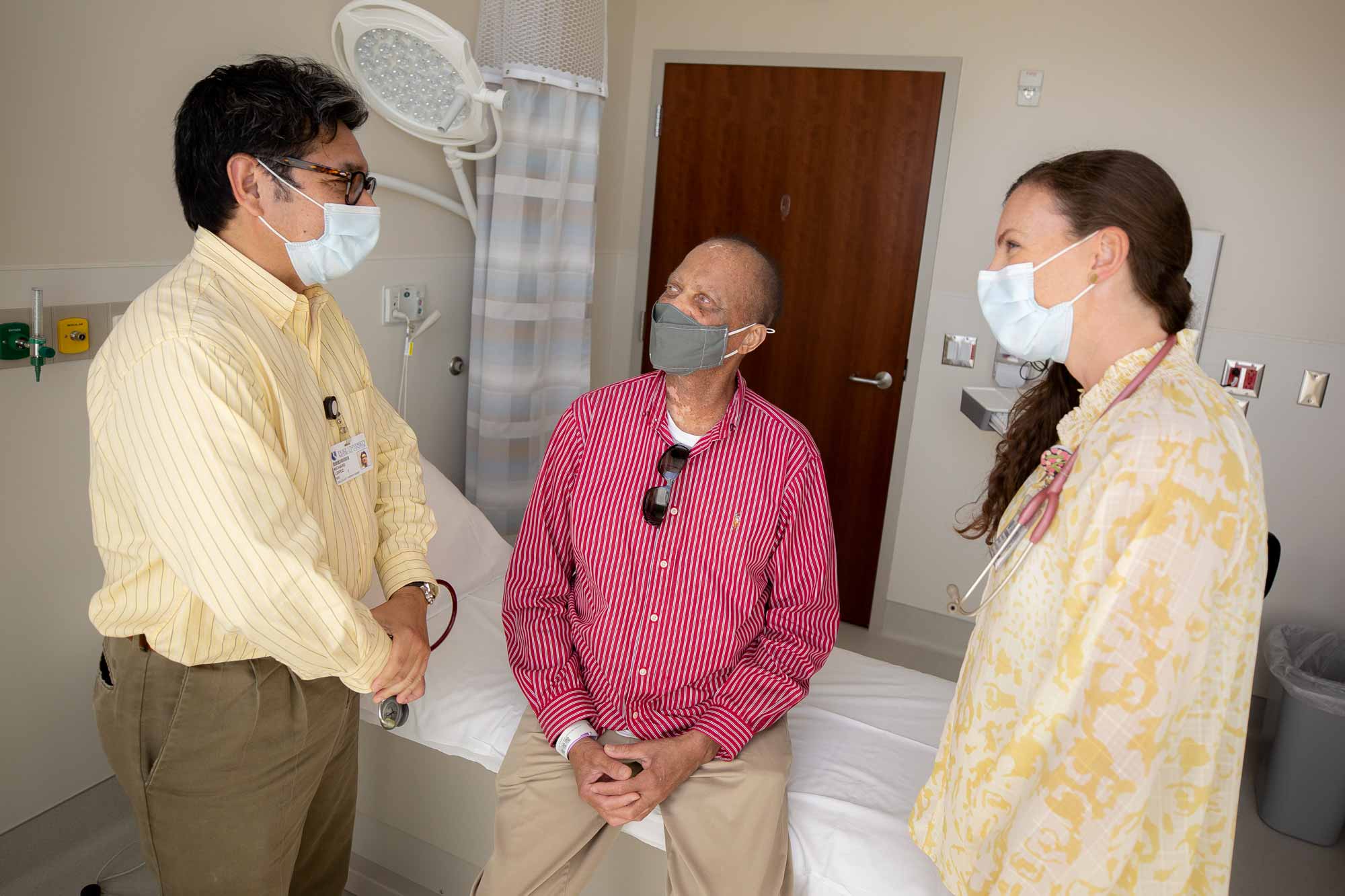 Nurse Practitioners and Physician Assistants
Nurse practitioners and physician assistants may participate in your care beginning at your first appointment through long-term follow-up. They perform physical exams and procedures, order tests, prescribe medications, and are active participants in your care.
Nurses 
Our nurses are experienced in caring for cancer patients, and they are experts in symptom management. We offer disease-based nursing -- nurses who are focused on your particular cancer and treatment options.
Dietitian
Our dietitian will help you understand your dietary needs and determine the foods that are best for you during and after treatment.
Social Workers
An assessment by a social worker is required for insurance approval. They will evaluate and discuss any psychosocial needs you may have during the next steps of your treatment. They also assist with referrals to community agencies.
Financial Coordinator
Your last scheduled appointment for the day is with a financial coordinator. They will verify that the insurance information we have been provided is correct and also review your transplant benefits. They will be your primary contact for any insurance or billing questions./p>
At Your Appointment
Your First Appointment
Your first appointment may begin with a nurse, nurse practitioner, or physician assistant. They will review your health history and may ask additional questions. You may also be seen by a medical resident or fellow pursuing specialty training in hematology-oncology or another specialty area. Both work closely with your health care team. 
Next, you will undergo any required lab tests and imaging studies. You may also have a procedure such as a bone marrow biopsy or a lumbar puncture.
You will then be seen by one or more doctors: a hematologist-oncologist, stem cell transplant and cellular therapy specialist, or other specialist who will discuss your diagnosis, treatment options, and next steps. If you are approved for a stem cell transplant, you will meet with a social worker and a financial coordinator. 
Subsequent Visits
A nurse will review your medication and symptoms. You will then see either your cancer specialist or the nurse practitioner or physician assistant who works with your cancer specialist. At each appointment, you will see the same nursing team. This approach gives you a consistent point of contact for questions and concerns that arise outside of the clinic. 
The Duke Cancer Institute offers disease-site nursing -- nurses who are focused on your particular cancer, treatments, and symptom management.
Your medical team will meet at least weekly to discuss your condition, treatment, and progress and to fine tune your treatment plan as needed.