From the DukeHealth.org archives. Content may be out of date.
Torn ACL Treatment: It's Different for Girls
Overview
Female athletes suffer ACL tears—a common knee injury—more often than their male counterparts. That's why a Duke orthopaedic surgeon tailors women's ACL treatment to improve their recovery and reduce their risk of repeat injury. Watch the video to see two young soccer players' stories.
"I jumped up and landed on my leg and heard a pop," said high school soccer player Gaby von Arx, 17, of Wilson, NC. "It didn't swell, it didn't hurt, but something told me, 'You just tore your ACL.'"  The ACL is the anterior cruciate ligament, a tough piece of tissue that connects your thigh bone to your shin bone.
Gaby knew instantly she'd suffered an ACL tear because of the telltale popping sound—and because her twin sister and teammate, Jesse, had sustained the same injury a few months earlier. They'd also seen it affect others on their soccer team: "Within one year, four girls tore their ACLs," Gaby said.
Both sisters had surgery to repair their torn ACLs, followed by intensive physical therapy, before returning to the field. Then Jesse had another ACL tear. That's not uncommon. "There is a high rate of re-injury in both men and women after they've had ACL tears," said Duke orthopaedic surgeon Dr. William E. Garrett Jr., MD, PhD. 
Motion Study Reveals Risks for Women Athletes
Dr. Garrett, who performed Jesse's second surgery and treated both girls during their rehabilitation, has studied the differences between ACL tears in female and male athletes. "We've looked at motion patterns, how people moved, men versus women," he said. Among the findings: "The women landed with straighter knees, stiffer knees—consistently."
For the twins, Dr. Garrett recommended post-surgery physical therapy that included training to reduce their risk of re-injury. "We try to focus on identifying movement patterns that we feel are safer, and that's landing soft, landing with knees bending—don't try to stick the landing straight. Have symmetry, have good balance on both legs."
Their ability to adopt those safer movements also helped determine when they could get back in the game. "In the past, deciding when we sent athletes back to play was time-based: 'In six months you can go back, or nine months,'" Dr. Garrett said. "But, really, what we're trying to focus on now is movement-based."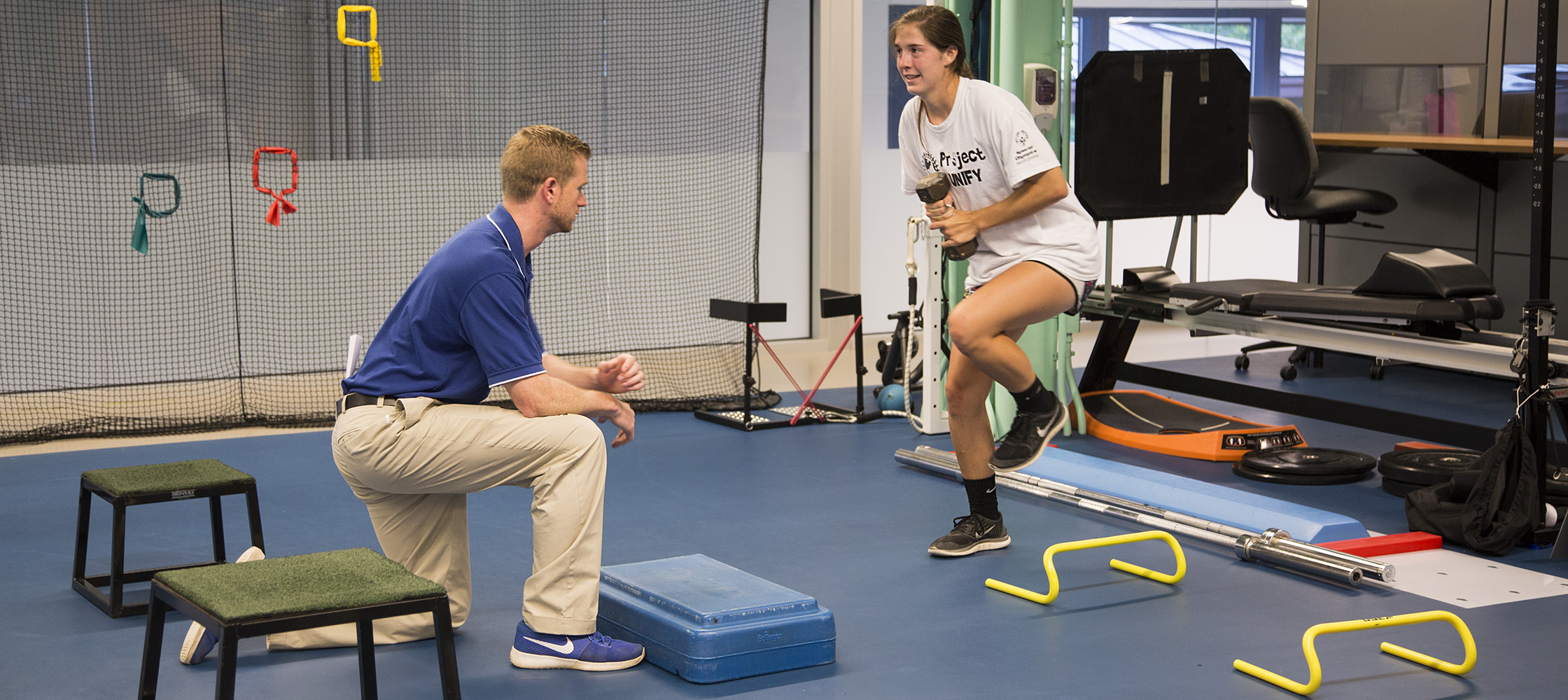 Rehab Returns Players to the Field
Both girls have completed their rehabilitation and are back in action. They appreciate the way Dr. Garrett coordinated with their physical therapist, sports medicine specialist Patrick Chasse, DPT, to help them learn to protect their knees. "My surgeon would say one thing, and then he would go tell Patrick, my physical therapist, and they would coordinate and change my physical therapy," Gaby said. "I definitely think it made the recovery process so much more efficient and better. They were both on the same page all the time."
Another outcome of the intensive training is that both girls now plan to pursue careers in physical therapy, athletic training or surgery. "I didn't know what I wanted to do before any of this," Jesse said. "It's kind of led me to physical therapy and surgery. I had no idea."
They're both also grateful to be able to continue to play the game they love—and plan to do so indefinitely. "I think for as long as I live I'm always going to coach soccer or juggle the ball every once and awhile." Gaby said.