From the DukeHealth.org archives. Content may be out of date.
Surgery, OT Restores Hand Function After Devastating Injury (Video)
Overview
Beth Hufner's body was shattered and her left hand hung motionless after she was struck by a truck during a morning run near her Hillsborough neighborhood. Duke orthopaedic specialists repaired her shoulder and used complex surgery and extensive rehab to help her regain the use of her lifeless hand.
Her Hand Hung Like a Rag Doll
It was 6:30 on a crisp North Carolina morning in December 2016 when Hufner, 39, was struck by a pick-up truck that had veered out of control along Highway 57. Hufner had just reached mile 10 of a 14-mile pre-marathon practice run.
"I woke up in a roadside ditch," said Hufner, who is a wife, mom, and part-time fitness trainer.
Her injuries included a broken pelvis and foot, neck fracture, three broken ribs, a leg gash, and a left arm completely broken in two. Her left hand, Hufner said, "just hung there like a rag doll."
An ambulance transported Hufner to Duke University Hospital, a Level 1 Trauma Center where trauma teams and specialists treat the most severe injuries.
A Team of Orthopaedic Specialists in Her Corner
Hufner needed reconstructive surgery to repair the severe break in her arm. "I've rarely seen an arm as damaged and swollen as Beth's," said Grant Garrigues, MD, a Duke orthopaedic shoulder surgeon who was recommended to Hufner by a trusted family friend. Dr. Garrigues knew Hufner was worried about how she would function in the future. "I assured Beth that our entire orthopaedic team was in her corner, and we would do everything possible to get her active quality of life back," he said.
Hufner began occupational therapy about a month after surgery. It helped her body begin to heal, but her left hand remained limp at her side. She couldn't extend her wrist or straighten her fingers. Though she's right handed, Hufner said, "I needed help to function each day: to dress, go to the bathroom, put my hair in a ponytail, make a meal for my family."
Hand surgeon David Ruch, MD, identified the cause of her functionless left hand. The severe break in her upper arm had damaged her radial nerve. She needed more surgery and extensive rehab.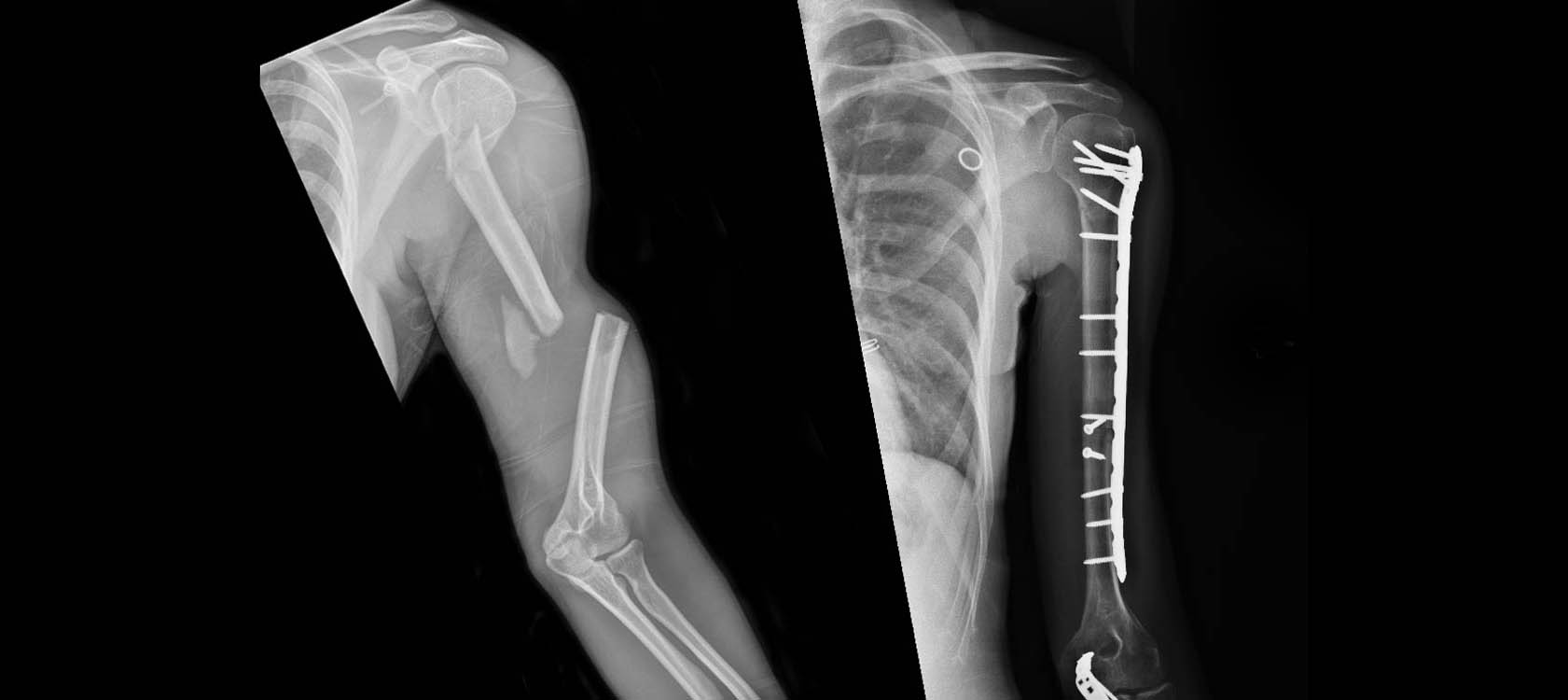 Callout
I assured Beth that our entire orthopaedic team was in her corner, and we would do everything possible to get her active quality of life back. 
Grant Garrigues, MD
Tendon Transfer Surgery Restores Hand Function
The radial nerve travels from the brain, down the underside of the arm to activate the muscles that extend the fingers and wrist. "If the radial nerve is damaged, the wrist and hand droop and the fingers won't work," Dr. Ruch explained.
Tendon transfer surgery can repair the radial nerve and restore function to the hand. During the procedure, Dr. Ruch moved portions of healthy muscle and tendons from one part of Beth's arm to replace those injured during the accident. "The procedure allows 'borrowed' muscle to take on the job of the old muscle," he said. "It's really quite amazing."
In Hufner's case, forearm muscle was used to lift the wrist up, a working wrist muscle was transferred to lift the fingers up, and a finger muscle was used to lift the thumb up. "Movement doesn't return immediately after surgery," Dr. Ruch explained. "The transferred muscle and tendon have to be taught how to do things through physical therapy and hard work."
A hand brace kept Hufner's newly placed muscles and tendons in place as they healed. "In order to stretch the tendons, my hand was in a perpetual 'high-five' for about a month," said Hufner who endured grueling hand therapy under the guidance and watchful eye of occupational therapist Julie Lunich, CHT, OTR/L. "Julie and my rehab team pushed me hard, and many tears later, I'm thrilled to report, we did it!" Hufner said.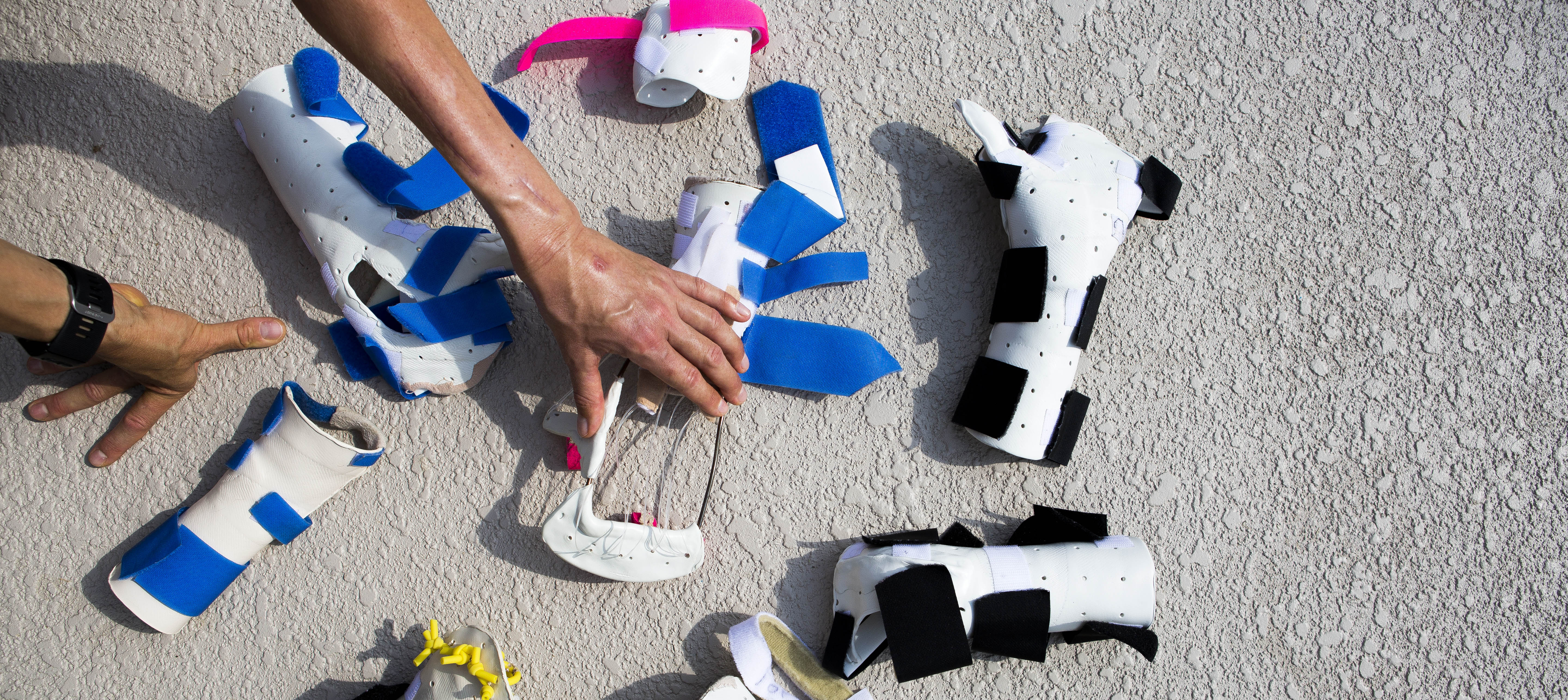 Planning Her Next Marathon
Just two months after tendon transfer surgery, Hufner's left hand is functioning again. "I'm still working on improving my grip strength, but, I've got my life back," she said. "I once again know the joys of independently dressing myself, driving, pushing a grocery cart, playing Legos with my kids and leaving smiley-face notes on their lunch napkins, holding our fat cats, and giving my husband a quick hug when he least expects it."
Hufner has also returned to work as a fitness trainer and is planning her next marathon.
"One flexibility exercise I continue to do is to type emails to Julie titled 'What my hand and I did today.' And, always, I end with 'I love my hand!' My body can now do what I once thought I'd never again be able to," said Hufner.
"The Duke orthopaedic team was given a gift to be able to do what they did for me. They are extraordinary people."