From the DukeHealth.org archives. Content may be out of date.
Duke's Short Lung Transplant Wait Saves CF Patient
Aimee Driscoll with her son, Liam
Overview
Cystic fibrosis patient Aimee Driscoll was given just hours to live. With no donor lungs available near her home in Maine, she was flown to Duke.
As a child growing up with cystic fibrosis (CF) -- a genetic condition that affects the lungs and other organs -- Aimee Driscoll knew she'd likely need a lung transplant someday. She started researching transplant programs while she was still in her teens. "Duke was one of my top choices," she said. "I saw they had a CF-specific program, so I was pretty excited."
But Driscoll was born and raised in Maine. She got married, had a child, and built her life there. When it came time for her to be placed on a transplant waiting list, Driscoll -- then in her late 20s -- chose a health system in New England so she could be closer to her tight-knit circle of family and friends.
As it turned out, Driscoll's lungs couldn't wait. Before donor organs could be found, she was admitted to a local hospital with one of the frequent lung infections caused by CF. Her condition worsened rapidly. "I was basically on my deathbed," she said. Her doctors in Maine put her into a medically induced coma and on a ventilator to support her breathing. Then her cystic fibrosis doctor called Duke. 
High-Volume Lung Transplant Center, Shorter Wait Times
Duke's lung transplant center, the highest-volume center in the Southeast, generally has shorter wait times than the national average. The center also accepts difficult cases.
Duke quickly dispatched a life flight team to transport Driscoll from Maine. "The carbon dioxide levels in her blood were more than twice what's normal," said Duke pulmonologist John Reynolds, MD. "She was at risk for sudden respiratory failure." The doctors in Maine had estimated she might have just hours to live. "They had my family say goodbye, in case I didn't make it," Driscoll said.
To stabilize her for the flight, Duke cardiothoracic surgeon John C. Haney, MD, put Driscoll on a life-sustaining technology called ECMO: extracorporeal membrane oxygenation. The system essentially does the lungs' job by drawing blood, oxygenating it, and returning it to the body. The life flight took off in a rainstorm to carry Driscoll to Durham. 
Lung Transplant Team Works Around the Clock
"When I woke up, about a week later, my mom said, 'You're not where you think you are,'" Driscoll recalled. She was in the ICU at Duke University Hospital, where the transplant team had been working nonstop to save her life. "It was a very intensive care situation that required people to manage her conditions and watch the ECMO circuit around the clock," said Dr. Reynolds. "Without urgent workup for transplantation she would have passed away."
While her situation was grave, her Duke doctors gave her hope. "I remember Dr. Haney saying, 'When you're ready, we can get the lungs for you. That's not an issue. It's just a matter of getting your body OK enough to go through this,'" she said.
A few weeks later, when donor lungs became available, Driscoll still wasn't in ideal condition, but the Duke team saw it as her best hope. Dr. Haney performed the transplant surgery. "I recovered extremely quickly," Driscoll said. She was out of the hospital within three weeks. She remained in the Durham area another three months, participating in the Duke Pulmonary Rehabilitation program to regain her strength and make sure her body adapted to the new lungs.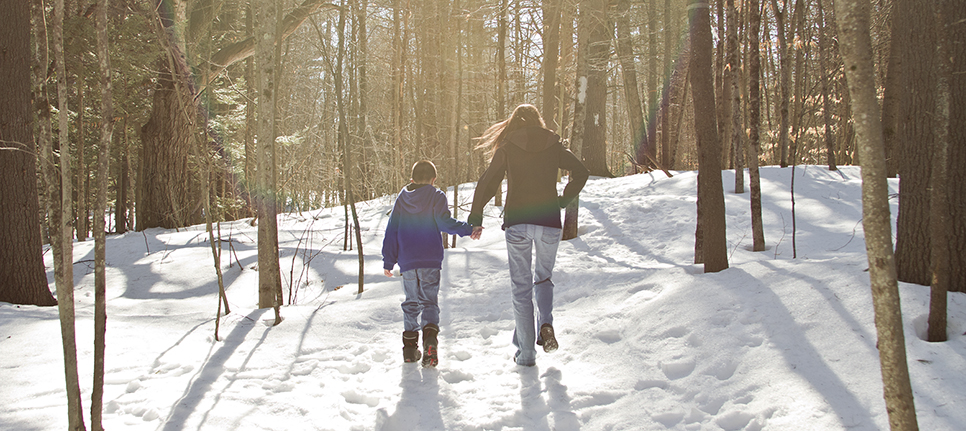 After Lung Transplant, a Grateful, Active Mom
Throughout the crisis, Driscoll focused on the people who were counting on her to live -- especially her then-6-year-old son, Liam, who has autism. "He's my whole world," she said. "Even though he has family around him, I'm the mom. I have to be there. Especially with his special needs. That gave me the will to fight."
Before her transplant, Driscoll's condition had severely limited her activities. "I had to be on oxygen all the time; I was coughing constantly, and always feeling tired and sick. I couldn't take my son outside to play; I couldn't keep up with him."
Now a few years past her surgery, Driscoll is actively enjoying life. While she still needs medical care for her CF, the condition does not affect her new lungs. She has run three 5k races. She has attended concerts and events she had to miss in the past. And she's finally able to keep up with her son. "I can run with him; we can be active together," she said.
She is grateful and credits Duke doctors and staff with restoring her life. "Even when you're in those last-ditch, dire efforts, I feel like there's hope out there -- especially through Duke," she said. "They see the potential in people more than just looking at the medical facts. They see your fight; they see your life; they see the things that you have to look forward to and live for."