Duke Telestroke Network Improves Stroke Care, Patient Outcomes at Six NC, VA Hospitals
Overview
Stroke patients have access to advanced care at Duke Telestroke Network hospitals. These partnerships are improving and expediting stroke care by providing immediate access to stroke specialists and quickly transferring patients who need complex procedures. Watch how it works below.
Immediate stroke treatment can prevent serious disability and death. Advanced stroke treatments are equally important but aren't offered at every hospital. Duke's Telestroke Network gives patients and doctors at six North Carolina and Virginia hospitals access to Duke stroke specialists 24/7/365. Duke neurologists perform virtual telestroke consultations at:
Maria Parham Health, Henderson, NC
Nash UNC Health Care, Rocky Mount, NC
SOVAH Health - Danville, Danville, VA
SOVAH Health - Martinsville, Martinsville, VA
Wayne UNC Health Care, Goldsboro, NC
Wilson Medical Center, Wilson, NC
Using a robot, Duke neurologists in Durham evaluate stroke patients in emergency rooms miles away via two-way telemedicine video conferencing. The neurologist uses the technology to consult with the patient, family, and local emergency department providers and to view the patient's CT scans. Based on this information, the Duke neurologist helps make decisions about how to manage patients with symptoms of an acute stroke. When the patient's condition warrants, the neurologist expedites their transfer to Duke University Hospital, Duke Raleigh Hospital, or another hospital that can provide the care they need. By the time the patient arrives, the stroke team is assembled and ready to perform what could be a lifesaving procedure.
Program Leads to Better Stroke Care at Local Hospitals
Most strokes are ischemic strokes, meaning they are caused by blood clots that block the flow of blood to the brain. Tissue plasminogen activator (tPA) can dissolve the clot and prevent damage to the brain if it's given within hours of the onset of stroke symptoms.
The hospitals in the Duke Telestroke Network have significantly increased the rates at which their patients receive tPA. "Nationally, 8% to 10% of all stroke patients get tPA," said Duke telestroke medical director Nada El Husseini, MD, MHS. In the telestroke program, "the average tPA rates are around 15%."
Eighty-eight percent of patients seen in the telestroke program remain at their local hospital instead of being transferred to Duke or other centers. That's a huge benefit, explained neurologist Brad Kolls, MD, PhD, MMCi, clinical director of neurosciences and technology for Duke Network Services, because patients can remain near their loved ones and familiar surroundings. That leaves more care teams and beds available at Duke for the 10% or so of patients who have extremely serious strokes and need advanced procedures that can't be provided locally.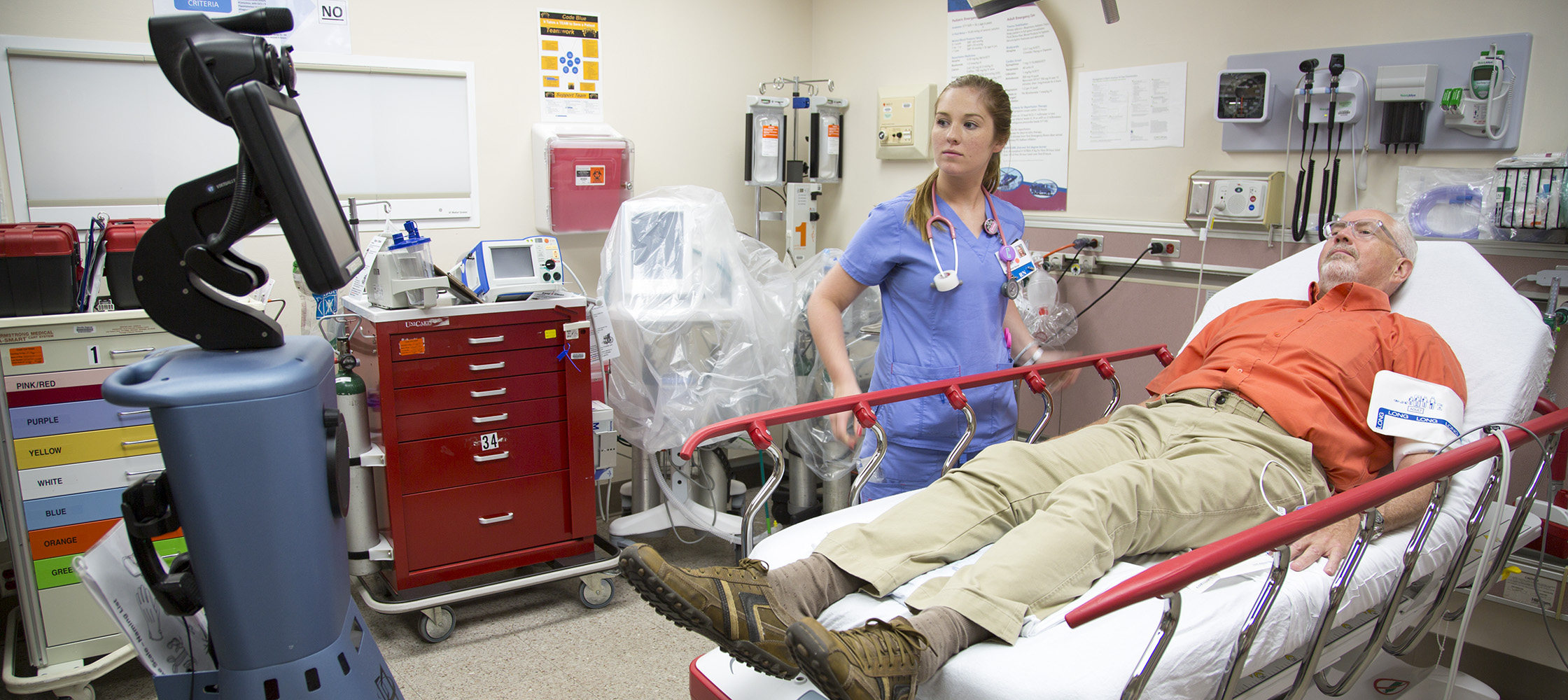 Advanced Stroke Treatments Available at Duke
Some ischemic stroke patients need more than tPA. In those cases, studies show a procedure called a thrombectomy may be the patient's best hope to survive, decrease disability, or regain normal function. During the procedure, a neurosurgeon threads a small, flexible tube called a catheter through an artery in the leg and to the brain. A wire cage-like device (called a stent retriever) at the end of the catheter snags the clot and pulls it out. This restores blood flow to the brain.
Over the years, research has shown that thrombectomy -- with or without prior tPA -- is better than tPA alone. "These studies found that the latest devices actually improved people's recovery from stroke substantially," Duke neurosurgeon Ali Zomorodi, MD, said. "We can do the same interventions for the brain that we do for the heart. If you treat stroke the same way you treat a heart attack, you can restore people to an independent life."
Thrombectomy is only performed at thrombectomy-capable hospitals, or comprehensive stroke centers, like Duke where neurosurgeons like Zomorodi are trained in the complex procedure. More than 100 thrombectomies were performed at Duke between July 2020 and June 2021; about a third of those were transferred through the telestroke network. 
Hemorrhagic strokes, caused by bleeding in the brain, are just as urgent and can cause devastating neurologic injury and death. A neurosurgeon may need to repair the cause of the bleeding or insert a drain to relieve pressure. "You have a very narrow window of time to get that person's condition under control by stopping the bleeding and controlling the swelling," said El Husseini. "Most community hospitals are not comfortable providing care to people with bleeding in their heads. Through our telestroke network, we work to diagnose and triage these patients and get them transferred in a timely fashion to a higher level of care."
More Stroke Patients Go Home Healthier
The Duke Telestroke Network has made it possible for patients to fare better by ensuring they get the right care, in the right location, right away. One measure of its success is how many patients go directly home after treatment instead of going to a nursing facility. Before the Duke Telestroke Network started, one partner hospital reported that 35% of stroke patients went home when they were discharged. After joining the Network, that number jumped to 74%. "We've nearly doubled their percent of patients being discharged to home," Kolls said.
The doctors are also seeing good outcomes among patients transferred to Duke for advanced treatment: 61% now go home or to a short-term rehab facility. "Those are good outcomes for people who present with severe stroke and who would have otherwise not had access to that level of care," El Husseini said. "This is an exciting time in stroke care." 
The Duke Telestroke Network is one of several across the state. Hopefully, the widespread use of telemedicine will result in improved care quality and outcomes for all North Carolinians who experience a stroke.