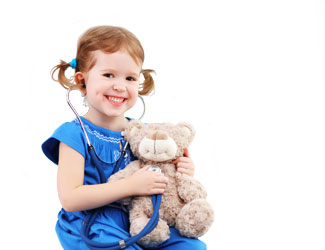 There are many reasons why children go to the bathroom too frequently or not enough, or experience urine leakage, bedwetting, or frequent urinary tract infections (UTIs). Diagnosing the cause and treating the problem is the Duke Children's pediatric urology team's main goal. Working with other specialists as needed, we help kids regain their bladder control and feel better mentally as well as physically.
Find a Bladder Control Problems in Children Doctor
Diagnosing Bladder Control Problems
Careful Diagnosis Needed to Uncover Cause
While bladder control problems may be related to behavior or development issues, there are times when a physical concern may be to blame. Careful diagnosis can uncover the cause of painful urination, poor bladder control, and/or recurrent UTIs and may identify conditions that affect the sphincter muscles that control urine flow. A proper diagnosis by our experienced pediatric urology team ensures your child receives personalized treatment that cures the condition, when possible.
Comprehensive Physical Exam
A comprehensive physical exam gives us important information about your child's bladder and bowel function. The physical exam includes simple tests of your child's lower-body reflexes, muscle strength, and sensations to check for any brain or nerve problems. Your child's urologist may also request:
Blood and urine tests to look at kidney function and rule out infection
An ultrasound to examine the urinary tract, bladder, or kidneys
An MRI to look for kidney, bladder, or spinal cord problems that could affect urinary function
We Are Thorough but Avoid Unnecessary Testing
Depending on your child's symptoms and test results, we may use other tests to take a closer look at how your child's bladder, kidneys, and urethral sphincter muscles function. Our goal is to be thorough but to avoid subjecting your child to unnecessary testing.
Duke Health offers locations throughout the Triangle. Find one near you.
Treating Bladder Control Issues Common in Children
Your Child's Comfort and Convenience is Our Concern
Because our pediatric urologists work closely with other specialists, we're able to make your child's visit as convenient and comprehensive as possible. This collaboration means you don't need multiple visits to address more than one problem. For example, if your child experiences bladder control problems and constipation, we can arrange for your child to receive care from a pediatric urologist and a pediatric gastroenterologist. Likewise, if bladder control is related to diabetes, your child's care team will include a pediatric endocrinologist.
Psychological and Social Support
We know your child may feel embarrassed and ashamed or suffer from low self-confidence. Our pediatric psychologists, counselors, and social workers help your child learn to cope, especially if he or she is having difficulty while they're at school or in social situations.
Child Life Specialists
Invasive tests are rarely needed for most children but, when required, some tests can be frightening to children. We put your child at ease. Our child life specialists explain the procedure and offer encouragement. We help prepare your child and offer support if your child needs a test or minimally invasive procedure.
Best Children's Hospital in NC
Duke Children's Hospital & Health Center is proud to be nationally ranked in nine pediatric specialties.
Reviewed: 07/10/2019