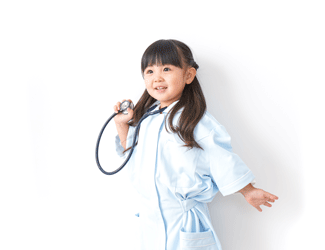 Immune system problems can range from allergic diseases such seasonal hay fever and food allergies to complex immune disorders that cause immune deficiency and autoimmunity. Duke pediatric allergists and immunologists have the training and skill to help infants, children, and teens when their immune systems don't work as they should. Care can range from keeping allergic reactions under control to providing advanced, innovative treatments for serious immunological disorders. Our team's ongoing research helps many children live normal, healthy lives.
Find a Pediatric Allergies and Immune Disorders Doctor
Duke Health offers locations throughout the Triangle. Find one near you.
Why Choose Duke
Long History Treating Immune Disorders
Duke Children's has spent more than 30 years conducting research that has advanced the treatment of life-threatening immune disorders. We continue to refine and improve the diagnosis and treatment options through our ongoing research and our work with organizations around the world.
Designations and Awards
We have been designated a Jeffery Modell Foundation Diagnostic and Research Center; we've also been named by the Immune Deficiency Foundation as a Center of Excellence. These designations recognize us for:
providing the highest standard of care
using innovation to advance treatments for immune deficiencies
offering groundbreaking clinical trials and research for our patients
We are also internationally recognized for our research-based thymus transplant program, which treats children with DiGeorge syndrome.
American Lung Association Asthma Clinical Research Center
We are a designated American Lung Association Asthma Clinical Research Center, and we are one of 44 Centers in the U.S. and Canada that make up the Primary Immune Deficiency Treatment Consortium. We study why children are born with primary immune diseases and how we can improve the diagnosis and treatment of these conditions.
Access to Clinical Trials
Children may be eligible to participate in our ongoing clinical trials, which provide access to therapies that are not widely available. For example, we are studying ways to:
improve the way bone marrow stem cell transplants are given to children with primary immune deficiencies
offer new therapies for patients receiving immunoglobulin therapies
perform advanced genetic testing to identify causes of immune deficiency
Excellent Patient Outcomes for SCID
We achieve excellent outcomes (overall survival of 75%) for patients with severe combined immunodeficiency (SCID) using T cell-depleted parental bone marrow stem cell transplants without pre-transplant chemotherapy.
As pediatric allergists and immunologists, we diagnose and treat a variety of conditions that range from asthma and allergies to autoimmune diseases during which the body's immune system attacks the body's own healthy cells. We are also nationally recognized leaders in the diagnosis and treatment of rare immune disorders, which occur when the immune system is either absent or does not function properly.
Advances in Immune System Testing
We use the latest advances in immune system testing -- known as immunodiagnostics -- to identify the causes of allergies and immune system disorders. The highly sensitive tests performed in our laboratory are only available at major allergy and immunology centers like ours. The results help us pinpoint the specific diagnosis related to your child's condition and help us determine the best course of treatment.
Everyday Living with Allergies
We work closely with children who are living with food allergies and seasonal and environmental allergies, including allergies caused by medications. We teach you and your child how to manage the allergy while your child still participates in everyday activities.
Team of Specialists, Therapists and Counselors
Because these conditions can affect other parts of the body, our team works closely with a range of specialists, including dietitians, physical and occupational therapists, gastroenterologists, social workers, and behavioral health specialists. Together, we work with your child to help them understand their condition and manage its effects on their physical, emotional, and psychological well-being.
Best Children's Hospital in NC
Duke Children's Hospital & Health Center is proud to be nationally ranked in nine pediatric specialties.