From the DukeHealth.org archives. Content may be out of date.
New Duke Sports Vision Center Focuses on High-Performance Vision Rehab and Training
Exercises at the center seek to optimize the visual and athletic performance of patients.
Overview
A new Duke Eye Center program is helping athletes and military personnel maximize their dynamic visual abilities.
High-Performance Vision Rehabilitation and Training
The Duke Sports Vision Center brings together specialists in ophthalmology, sports vision, and occupational and physical therapy, as well as experts in concussion rehabilitation and cognitive neuroscience. Together, the specialists are using new and existing therapies to optimize visual performance in people who perform visually demanding activities. At the same time, the doctors are studying these treatments to determine how well they actually work.
"We know people can follow these methods and get better at doing certain activities within a training device," explained Diane Whitaker, OD, a vision rehabilitation expert at Duke who developed the program with Terry Kim, MD, a Duke corneal surgeon, and Greg Appelbaum, PhD, an expert in psychiatry and behavioral science. "What we really want to know is whether these new or improved skills makes them a better ball player. Anecdotally, people come back and report improvements in performance, but no one has done a well-designed study on the direct translation from device-based training to actual on-field or -court performance."
Two Levels of Visual Skills Programs
The Duke Sports Vision Center offers two visual skills programs.  
The Select Skills Training program uses digital and naturalistic sports performance instruments to rehabilitate community athletes and athletes following a vision-related injury or concussion to enhance or improve visual motor performance.
The Elite Skills Training program uses enhanced training devices and is targeted at healthy premier athletes who want to improve their visual–motor performance.
Before they begin, program participants undergo an eye health exam and a base-line evaluation of their sensory-motor skills to identify individual strengths and weaknesses. Using this information, the sports vision center doctors tailor a customized visual skills training program to each athlete. The data collected during evaluations and training will also contribute to ongoing research efforts aimed at improving the center's sports vision training approach.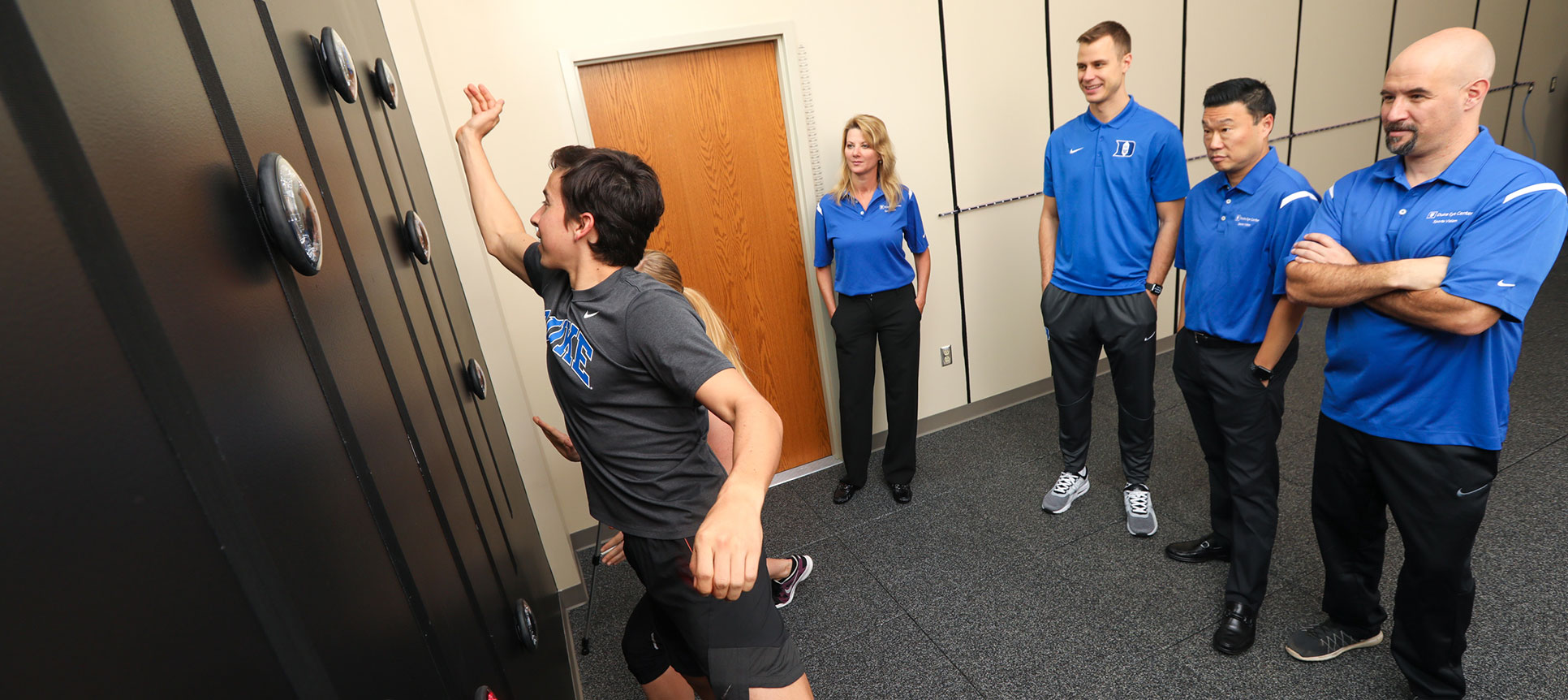 Exciting Opportunities to Optimize Visual and Athletic Performance
"We're very excited to be part of the first multidisciplinary sports institute in the nation that will incorporate the latest technologies and research to help optimize the visual and athletic performance of our patients," Dr. Kim said.