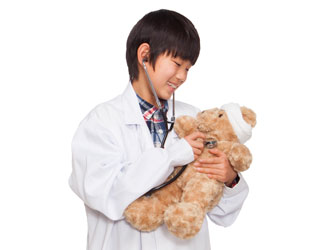 Kidney stones are not common in children, but their incidence is on the rise. When painful kidney stones occur, they need comprehensive evaluation and prompt treatment. That's the goal of the pediatric urologists at Duke Children's. We work closely with kidney doctors and endocrinologists to relieve your child's discomfort. We also offer dietary recommendations to prevent new kidney stones from forming.
Our Doctors
Meet our doctors, view their profiles, and select the one that's right for you.
Refine Results
About Kidney Stones in Children
What Are Kidney Stones?
Kidney stones are solid, pebble-like crystals that form in the kidneys and can block the flow of urine. While they don't always cause symptoms, they can sometimes be very painful. Our goal is to discover the cause as quickly as possible and start treatment promptly.
Diagnosing Kidney Stones
Kidney stones can run in families, so knowing your health history can help us in diagnosing your child. In addition to health history, we use a variety of tests to determine next steps in treatment.
Ultrasound
Sound waves generate images that help us examine your child's urinary tract and kidneys to look for kidney stones. It's a gentle exam that doesn't expose your child to radiation.
Blood and Urine Tests
These help your child's pediatric nephrologist learn what caused the stone to develop and how to prevent kidney stones in the future.
Duke Health offers locations throughout the Triangle. Find one near you.
Why Choose Duke
A Team of Specialists
We work closely with experts throughout Duke, coordinating our efforts to make things more convenient for you. Whenever possible, your child will benefit from the expertise of multiple specialists in a single visit. This comprehensive care has earned us national recognition.
Kids Very Rarely Need Surgery to Remove Kidney Stones
But if yours is one of the few who do, you can feel confident in your child's treatment. Duke Children's is one of only a few hospitals in the U.S. verified as a level I children's surgery center by the American College of Surgeons. This Level I designation recognizes our commitment to providing the safest and highest-quality surgical care to our young patients.
Best Children's Hospital in NC
Duke Children's Hospital & Health Center is proud to be nationally ranked in nine pediatric specialties.
Reviewed: 08/16/2017