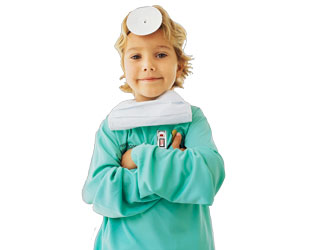 Hydronephrosis is a common condition that may be diagnosed while your child is still in the womb or after birth. It may resolve itself soon after delivery, but sometimes it may cause problems as your child grows. If there is a blockage present in your child's urinary system, the kidneys can swell from a backup of urine, known as reflux. If you have been told your child has hydronephrosis, our pediatric urologists and nephrologists can diagnose and manage the cause of your child's condition. We work with your prenatal team to plan for your child's assessment and treatment, if needed, after delivery.
Find a Hydronephrosis Doctor
Expert Care for Hydronephrosis
Finding the Cause Is the First Step
Finding the cause of your child's hydronephrosis is the first step in his or her treatment. It may be caused by a blockage in the flow of urine at some point in your child's urinary tract. Your child may have an abnormal or unusual kidney or a problem with the valve in the ureter that causes urine to flow backward from the bladder (reflux).
Your Child Is in Good Hands
These conditions may be initially diagnosed on an ultrasound during a routine pregnancy exam. Or your child may experience symptoms that will prompt your pediatrician to refer you to a pediatric urologist. In either case, you are in good hands. Our pediatric urologists work closely with obstetricians, pediatricians, and nephrologists to give your child comprehensive care.
If Your Child Needs Surgery
Surgery is usually not needed for hydronephrosis, but if your child needs surgery, you can feel confident knowing your child will receive the most effective, least invasive care possible. Duke Children's is one of the few hospitals in the U.S. verified as a Level I children's surgery center by the American College of Surgeons. This Level I designation recognizes our commitment to providing the safest and highest-quality surgical care to our young patients. We make sure you understand the procedure and that you know what to expect before, during, and after surgery. We discuss what's right for your child, answer all your questions, and do everything we can to make the experience as worry-free as possible.
Duke Health offers locations throughout the Triangle. Find one near you.
Best Children's Hospital in NC
Duke Children's Hospital & Health Center is proud to be nationally ranked in nine pediatric specialties.
Reviewed: 08/24/2017