Intestinal Rehabilitation for Children
For Intestinal Failure, Short Bowel Syndrome, and Other Intestinal Diseases
Call for an Appointment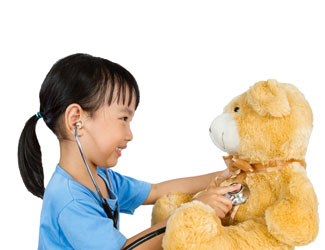 Children who experience intestinal failure as a result of short bowel syndrome, intestinal dysmotility, or surgical complications may benefit from intestinal rehabilitation, a process that focuses on your child's nutritional care to maximize intestinal function. Duke is one of the few intestinal rehabilitation centers in the region with a team of specialists experienced in providing intestinal rehabilitation through diet, medications, and nonsurgical and surgical procedures.
Find an Intestinal Rehabilitation for Children Doctor
Intestinal Rehabilitation Evaluation
The evaluation begins when we consult with your child's referring doctor and review the data he or she has collected on your child's condition. We will also request and review the notes from any gastrointestinal (GI) surgeries your child may have had.
Your child will undergo an extensive evaluation and nutritional analysis with all members of our intestinal rehabilitation team, to determine what type of intestinal rehabilitation method is best for your child. The evaluation may take several days or appointments, depending on what tests and screenings are needed for your child. It may include blood tests, X-rays or other radiological studies, and diagnostic procedures. After we have completed this testing, the intestinal rehabilitation team will tailor our recommendations to your child's individual needs.
The goals of intestinal rehabilitation for your child include increasing weight gain and linear growth, decreasing stool output, improving hydration, and improving nutrient deficiencies. This may allow your child to be weaned off total parental nutrition (TPN).
Duke Health offers locations throughout the Triangle. Find one near you.
Family-Friendly Services
We understand that your child's intestinal disorder can take an emotional toll on your child and your family. Our team meets with you to explain your child's condition and answer any questions you may have. We do everything we can to make sure you and your child understand and are comfortable with every phase of treatment. This includes providing you with information, reassurance, support, and compassion.
Hospitalization can be scary for anyone. Our Child and Adolescent Life staff are trained in child development and family-centered care. They help your child cope -- through play, preparation, education, and self-expressive activities. An activity room offers everything from lively video games, books, and board games to the joys of simply sharing a conversation or a smile. Teachers are available to provide continued learning and education during your child's hospital stay.
Our social workers can help you navigate the medical system and coordinate the variety of health services your child needs. We help you work with insurance providers, connect with resources, and manage details related to your child's care.
Best Children's Hospital in NC
Duke Children's Hospital & Health Center is proud to be nationally ranked in nine pediatric specialties.
Your Child's Intestinal Rehabilitation Team
A Team of Experts
The Intestinal Rehabilitation team at Duke includes hepatologists, surgeons, gastroenterologists, nurse coordinators, registered dietitians, physician assistants, nurse practitioners, social workers, and pharmacists. Your child may also receive care from experts in occupational therapy, speech therapy, and child psychiatry.
Intestinal Rehabilitation Treatments
We have successfully delivered intestinal rehabilitation treatments to people dealing with different types of intestinal issues and diseases, including short bowel syndrome, intestinal motility disorders, intestinal trauma, intestinal diseases such as Crohn's disease, bowel obstructions, and more.
Treatment from Birth to Adulthood
We treat children of all ages, from infants to 18 years old.
Convenient Care
Although many of our patients live in the Carolinas, we provide services to children from across the U.S. No matter where you live, we help you schedule your child's appointments to be as convenient as possible. If you live in or near Durham, it may work best to schedule your child's treatment over time. If you live far away, we'll try to condense your child's appointments into the shortest number of days his or her treatment will allow.
Access to the Latest Research and Treatments
Our role in intestinal rehabilitation research and education means your child benefits from the latest advances in treatment. For example, your child may be eligible to participate in pediatric trials for medications that are used to improve intestinal absorption.
Leaders in National Intestinal Rehabilitation and Transplant Organizations
Our intestinal rehabilitation experts hold leadership positions in the national intestinal rehabilitation and transplant organizations, including the United Network for Organ Sharing (UNOS).