Inflammatory Bowel Disease in Children, Teens
Crohn's Disease, Ulcerative Colitis, and Indeterminate Colitis
Call for an Appointment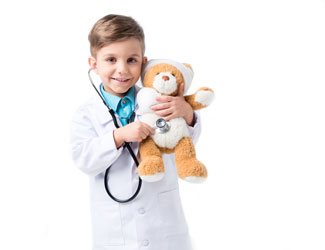 Inflammatory bowel diseases (IBD) -- including Crohn's disease, ulcerative colitis, and indeterminate colitis -- are chronic, lifelong autoimmune conditions. While there is no cure, children and teens with these conditions benefit from the many effective treatments are available. Duke's pediatric gastroenterologists, nurses, dietitians, social workers, and mental health specialists address the physical and emotional aspects of your child's illness. We work with you and your child to reduce or eliminate symptoms and ensure proper nutrition so your child can achieve healthy growth and enjoy everyday activities.
Our Doctors
Meet our doctors, view their profiles, and select the one that's right for you.
Find an Inflammatory Bowel Disease in Children, Teens Doctor
Diagnosing and Treating Inflammatory Bowel Disease in Children
Inflammatory bowel disease causes inflammation in the small intestine, colon (large intestine), stomach, and other areas of the digestive tract. Symptoms can vary and may include frequent stomach pain, diarrhea, bloody stool, and weight loss.
Accurate Diagnosis Is Key to Treatment
It is important to get an accurate diagnosis for your child, as treatments can differ for Crohn's disease and ulcerative/indeterminate colitis. Making a diagnosis is like putting together a puzzle. Different pieces -- symptoms, lab work, imaging tests -- help us build a complete picture of your child's IBD.
Evaluation and Testing
If inflammatory bowel disease is suspected, your child will be tested for:
Anemia
Elevated inflammatory markers
Low protein levels
Vitamin/nutrient deficiencies (vitamin B12, folate, vitamin D, zinc, iron)
Additional tests and exams include:
Stool Samples: Tested to rule out other conditions such as gastroenteritis.

Upper Endoscopy or Colonoscopy: Checks for chronic inflammation in the digestive tract.

CT Enterography or MR Enterography: Images of the abdomen and pelvis are taken using special methods to increase contrast, allowing us to look for inflammation in the bowel.
Treatment and Ongoing Care
After an initial diagnosis, most children see our pediatric gastroenterologists frequently until their condition is in remission. After your child is in remission, we will see them every two to six months, depending on their condition. Your child's doctor will perform a physical examination and will assess growth and development. Lab tests ensure the disease is under control and to monitor side effects. Even if your child is feeling well, they should still be seen by their doctor at least once or twice a year.
Duke Health offers locations throughout the Triangle. Find one near you.
Best Children's Hospital in NC
Duke Children's Hospital & Health Center is proud to be nationally ranked in nine pediatric specialties.
Why Choose Duke
Family and Support Services
Living with and managing an inflammatory bowel disease can be exhausting and overwhelming. When you come to Duke Children's for your child's care, our team is here to help. Our doctors and nurses will connect your child and you to additional services to answer your questions and provide the extra support you need.
Mentorship for Teens with IBD
Duke's Adolescents Transitioning to Leadership and Success (ATLAS) Program helps teenagers prepare to be young adults living with inflammatory bowel disease. Teens are paired with college students from Duke University. These older students are living successful lives with IBD, and they serve as mentors to the teens. Mentors share advice about going to college, managing medicines, how to get help when you need it, and even issues around dating. Adolescents participating in ATLAS who are departing for college are given the opportunity to spend a weekend on campus to practice self-management skills with program mentors.
Parent Working Groups
These sessions give newly diagnosed families an opportunity to speak and interact with families who have been living with inflammatory bowel conditions for a long time. We can pair your family with others who will share their experiences with you, thanks to our partnerships with the Crohn's and Colitis Foundation and Improve Care Now. As a member of Improve Care Now, we collaborate with more than 100 pediatric gastroenterology centers around the world to improve the care of children with IBD.
Help Navigating the Medical System
Our social workers can help you navigate the medical system and coordinate the variety of health services your child needs. We help you work with insurance providers, connect with resources, and manage details related to your child's care.