From the DukeHealth.org archives. Content may be out of date.
Winning Senior Olympic Gold After Heart Surgery and Cardiac Rehab
After heart surgery and cardiac rehab, Dick Mazur was once again able to compete in the Senior Games.
Overview
Dick Mazur of Raleigh was a fit 76-year-old planning to compete in the Senior Olympics for his third year in a row when his plans got waylaid. Diagnosed with a serious heart problem, he underwent heart surgery followed by cardiac rehab at Duke Health. Mazur went on to compete in the Senior Olympics after all, where he won three medals. "I owe it all to the rehab people," he said.
Dr. Rockman Makes a Game Plan, Assembles Heart Team
Content
It started one morning when Mazur noticed his ankles were swollen. He suspected a heart problem and called his primary care office. There, his nurse practitioner detected atrial fibrillation, or AFib, which means irregular heartbeats caused by abnormal electrical signals in the heart. She urged him to make an appointment at Duke Cardiology at Southpoint in nearby Durham.
"He wasn't doing well," said Howard A. Rockman, MD, a cardiologist and leader of Mazur's heart team. "Two of his valves were leaking, and one artery was blocked."
Dr. Rockman referred Mazur to Duke heart surgeon Donald D. Glower Jr., MD, a pioneer in valve repair. Dr. Glower repaired two valves, removed a blockage, and wired Mazur for a pacemaker.
"The doctors told me it was great that I was in such good shape," said Mazur. "It helped me recover from the lengthy surgery."
After Surgery: Cardiac Rehab, with a Few Speed Bumps
Content
One month after surgery, Dr. Rockman sent Mazur to cardiac rehabilitation. There, he met exercise physiologist Sharon Page, who initially scheduled Mazur for 36 therapy sessions over three months. He suffered a few setbacks at the start, including a bout of pneumonia.
"I told Sharon I had been a Senior Olympic Games participant the last two years, but I was pretty sure I wouldn't compete this year," said Mazur. He was surprised when Page told him she was confident he could compete without skipping a year. Nutritionist Todd Burgher coached Mazur on nutrition, helping him lose 16 pounds and rededicate himself to improved eating habits.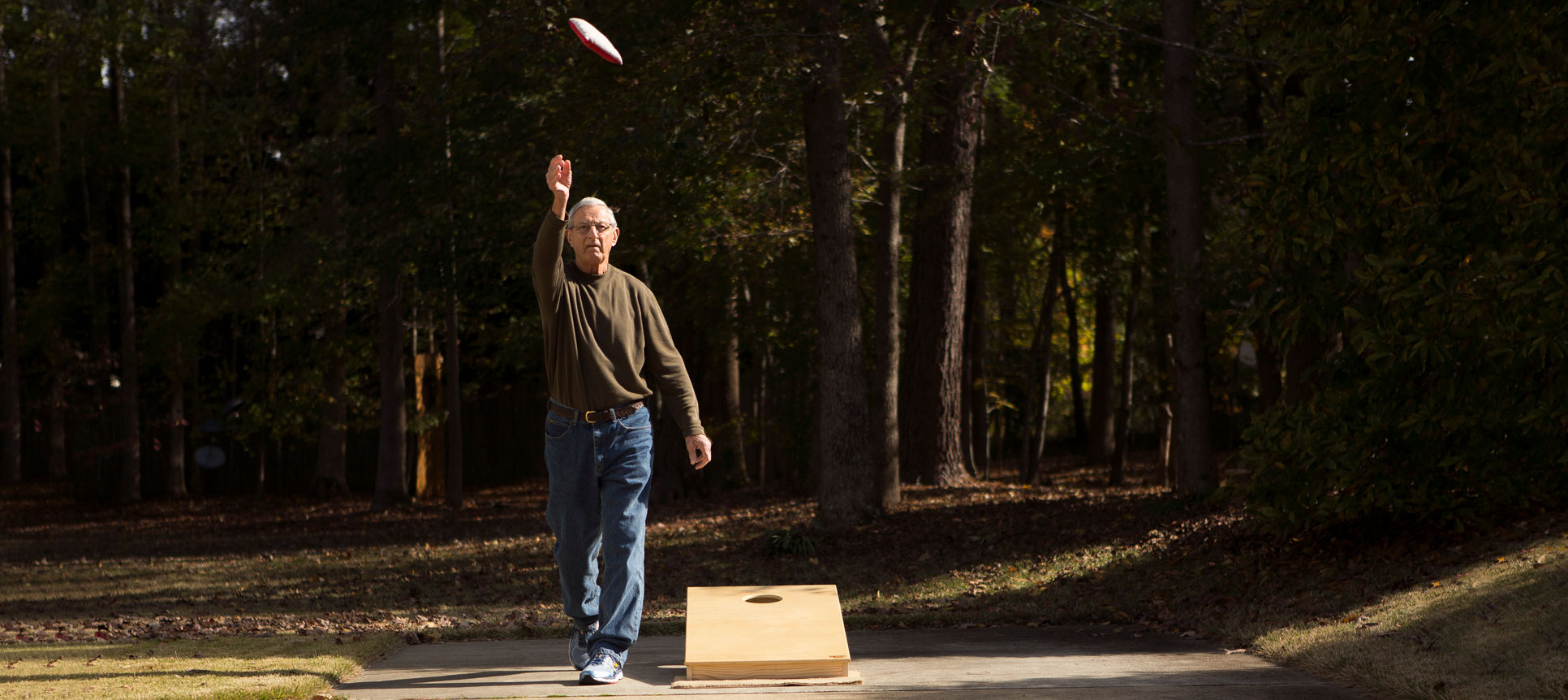 Gold, Silver, and a New Appreciation for Great Care
Content
Mazur felt himself getting stronger and stronger, until he was ready to "graduate" from cardiac rehab.
"Therapy is hard work, so we keep our patients motivated," said Page. "Dick is very compliant, very coachable, and responsible for his own care."
A few months later, Mazur came back to thank Page and her rehab team -- wearing three medals around his neck from the 2017 Senior Olympic games: two gold and one silver. He won the gold medals in Football Throw and Softball Throw, and the silver medal in Cornhole Toss.
Mazur believes he wouldn't have tried without inspiration from the cardiac rehab team. "It's a fantastic thing to have their time, patience, work, and encouragement," said Mazur.