Urgent Care Is Now More Convenient
Find Locations, Check Wait Times, and Reserve Your Spot
Overview
Now you can check Duke Urgent Care locations and wait times -- online, from any device -- and reserve a spot at the clinic most convenient for you.
Wait in Your Comfy Chair, Not a Waiting Room
When you're sick or injured, you want comfort. Cozy sweatpants and a cup of tea. You don't want to exchange miseries -- or germs -- with a waiting room full of strangers. So we've made visits to our urgent locations care more convenient. 
Note: Do NOT go to urgent care if your illness or injury is life- or limb-threatening -- for example, if you have chest pain, trouble breathing, severe bleeding, or a displaced bone fracture. Call 911 or go directly to the nearest emergency room.
Convenience = Location + Wait Time
Duke Urgent Care has nine locations throughout the Triangle. The most convenient may be the one nearest you. Or the one that can see you soonest. Or the one with a time slot that fits your schedule. To view all your options, visit DukeHealth.org/urgentcare. You'll see a list of our locations and their current wait times. Choose the one that's best for you -- but don't get in your car just yet.
Reserve Your Spot
Select your preferred location, then click the "Reserve Your Spot" button to choose from available time slots. Let us know the reason for your visit and a mobile phone number where we can text you. We'll alert you to any schedule updates. (You can also reserve an urgent care time slot in Duke MyChart. Just use the link on the right-hand side of the "Schedule an Appointment" screen.)
Then rest up wherever you're most comfortable until it's time to head to our urgent care clinic.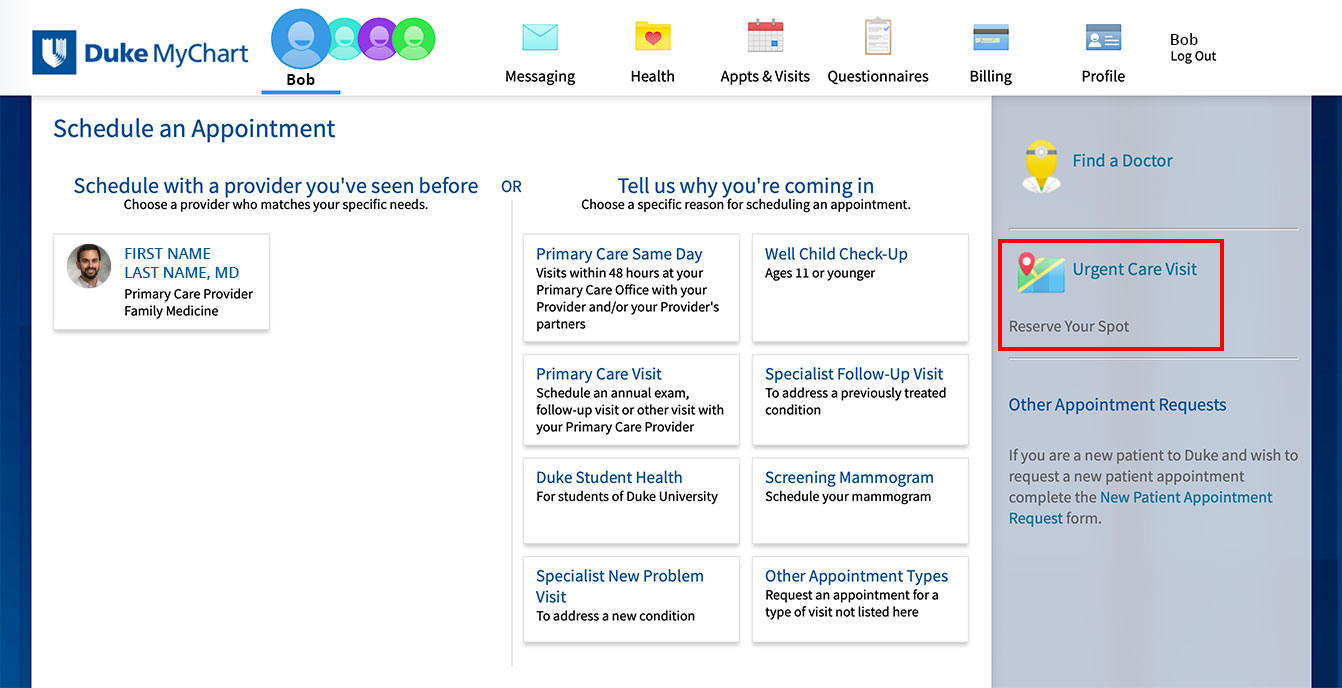 Self-Serve Check-In, Visual Queue Monitors
When you get to the clinic, use our new check-in kiosk to let us know you've arrived. Then take a seat; our staff will call you to the front desk to complete your registration. We've also installed video display monitors that show where you are in the queue. We'll call you in to see a provider as quickly as possible. 
It's important to note that your time slot is a reservation only. In the case of emergencies, patients may not be seen in the order they arrived, and that may affect when you are seen.
Didn't Reserve a Spot?
No worries. Walk-ins are always welcome. Just use the check-in kiosk when you arrive. Our urgent care locations are open 7 days a week, 8 am to 8 pm.