From the DukeHealth.org archives. Content may be out of date.
Spinal implant improves quality of life for little girl with early onset scoliosis
Aubrey Parks is able to wear dresses thanks to the newly FDA-approved MAGEC rod implanted in her back.
Overview
Aubrey Parks' parents thought their 7-year-old daughter would need at least eight surgeries over the next three years to treat her early onset scoliosis. Instead, the newly FDA-approved MAGEC rod was implanted in her back to lengthen her spine in tiny increments via remote control. This innovative technology is one of the best treatment options available for scoliosis.
Born with spina bifida; living with scoliosis
A vivacious, quick-witted first grader, Aubrey Parks is a "girly girl" who loves to dress like a princess, said her mother, Laura Parks. Unfortunately, wearing frilly dresses hasn't been possible for the past four years. Instead, Aubrey has worn a corset-style brace around her torso to treat early onset scoliosis.
Aubrey was born at Duke with spina bifida and uses a wheelchair for mobility. The birth defect occurs when a section of a developing fetus' spinal column fails to close properly. Early onset scoliosis is a common complication. Bracing can minimize the progressive curve of the spine, but by early 2015, it was clear that Aubrey's brace was no longer effective.  Her spinal curve had progressed to more than 100 degrees. Her pelvis had tilted and her vertebrae were twisted like a spiral staircase.
When Laura and her husband Brian realized Aubrey would need multiple spinal surgeries, the family relocated from Chesapeake, VA, to Willow Springs, NC, to be closer to Duke and Aubrey's pediatric spine surgeon, Robert Lark, MD. "Dr. Lark is an amazing doctor and really instills confidence in us as parents," said Parks, who also has a son, Carson. 
Watch the video below to hear Aubrey share her story.
The MAGEC Solution
Left untreated, scoliosis in young children affects the normal expansion of the chest cavity; it prevents proper growth and maturity of the lungs. That can compromise lung function and increase the risk of heart failure.
While bracing and casting may be effective treatments for mild spinal curvatures, children with more severe cases may require growth-friendly surgical options. In July, Lark suggested a new treatment option for Aubrey. The MAGEC (MAGnetic Expansion Control) rod was approved by the FDA for treatment of early onset scoliosis in early 2015. Unlike traditional expandable spinal implants that must be surgically lengthened every six months, the MAGEC device is lengthened 4.7 millimeters at a time, using a magnetic motor placed on the patient's back. The non-invasive procedure is repeated every three months for about three years.
In November 2015, Aubrey became the first patient at Duke to receive the MAGEC implant. In about three years, Aubrey's MAGEC rods will reach their maximum length. Lark will then perform a spinal fusion to connect together her vertebrae so that they no longer move.
"Aubrey was a perfect patient for this procedure because she could tolerate it both physically and psychologically," Lark said. "This groundbreaking treatment will save Aubrey numerous trips to the operating room, and it will reduce scarring. The MAGEC rod doesn't work on all curves, and it's not for every child, but early research suggests MAGEC may be one of the best treatment options we have for children with scoliosis."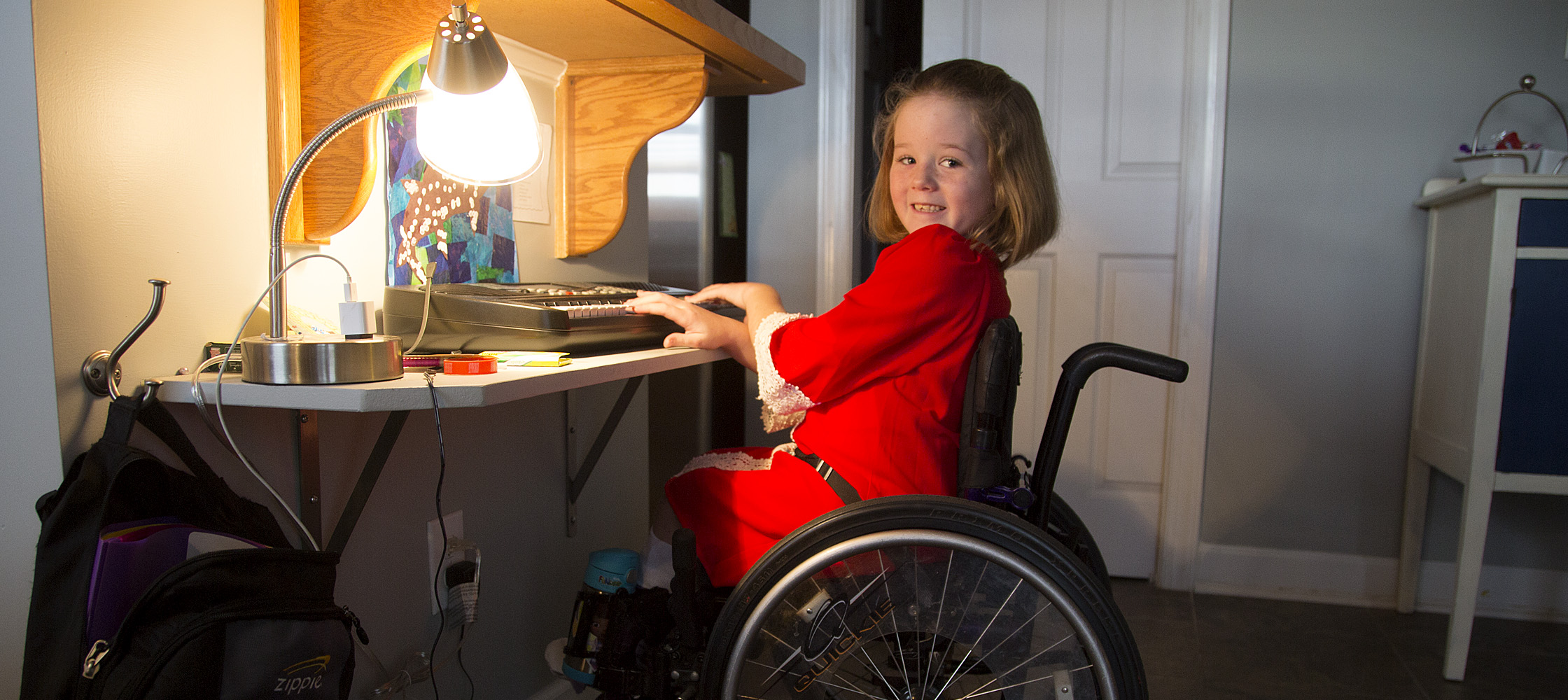 Scoliosis patients benefit from Duke's team of pediatric specialists
Duke's young scoliosis patients are fortunate to have access to a pediatric spinal surgeon trained to implant and use the MAGEC system. Patients with complex medical concerns also benefit from Duke's comprehensive approach to care, with a surgical team that includes pediatric specialists from disciplines such as anesthesiology, pulmonology and intensive care.
So far, Aubrey's parents have been pleased with the results. Right after surgery, she was sitting about two inches taller and straighter in her wheelchair.
"The procedure made a huge difference from the get-go," Parks said. "Aubrey's shoulders are straight now, and they never were before. So looking at her is a world of difference—it's night and day."
And Aubrey's grandmothers have showered her with new dresses, which she happily wears.
"This procedure has been life changing for Aubrey," Parks said. "Not wearing the brace means independence for her. Now she can put on her clothes and can get in her wheelchair by herself. She wants to do the things by herself that every other kid can do. Without the brace, that's possible."
Dr. Robert Lark, MD, MS is a pediatric orthopaedic surgeon who specializes in all aspects of children's orthopaedics, including disorders of the spine and hip, such as scoliosis and hip dysplasia, and pediatric fractures.