A Second Opinion at Duke Gives Woman with Pancreatic Cancer a Second Chance
Overview
After a lengthy surgery failed to remove a cancerous mass from her pancreas, Sharlene Mitchell's doctors told her nothing more could be done. Mitchell, however, was not ready to give up hope and sought a second opinion at Duke. Because of her determination, she is now cancer-free and thankful for every day. 
A Diagnosis of Pancreatic Cancer and an Unsuccessful Surgery
Mitchell, a licensed practical nurse, understands the importance of taking care of her health. So in 2016 when she experienced severe abdominal pain, nausea, and vomiting, she headed straight to the emergency room. It would take three years, countless tests and doctor visits, and many more trips to the ER before she finally received the devastating news that she had pancreatic cancer.
"After that, things happened pretty quickly," the now 57-year-old said. She met with gastroenterologists and oncologists and went through chemotherapy and radiation near her home in Richmond, VA. In August 2020, she had surgery to remove her pancreatic tumor, but things did not go as planned. The cancer had invaded nearby blood vessels. Mitchell was told "the cancer was inoperable and that it would never be operable." She was sent home with instructions to enjoy the time she had left to live.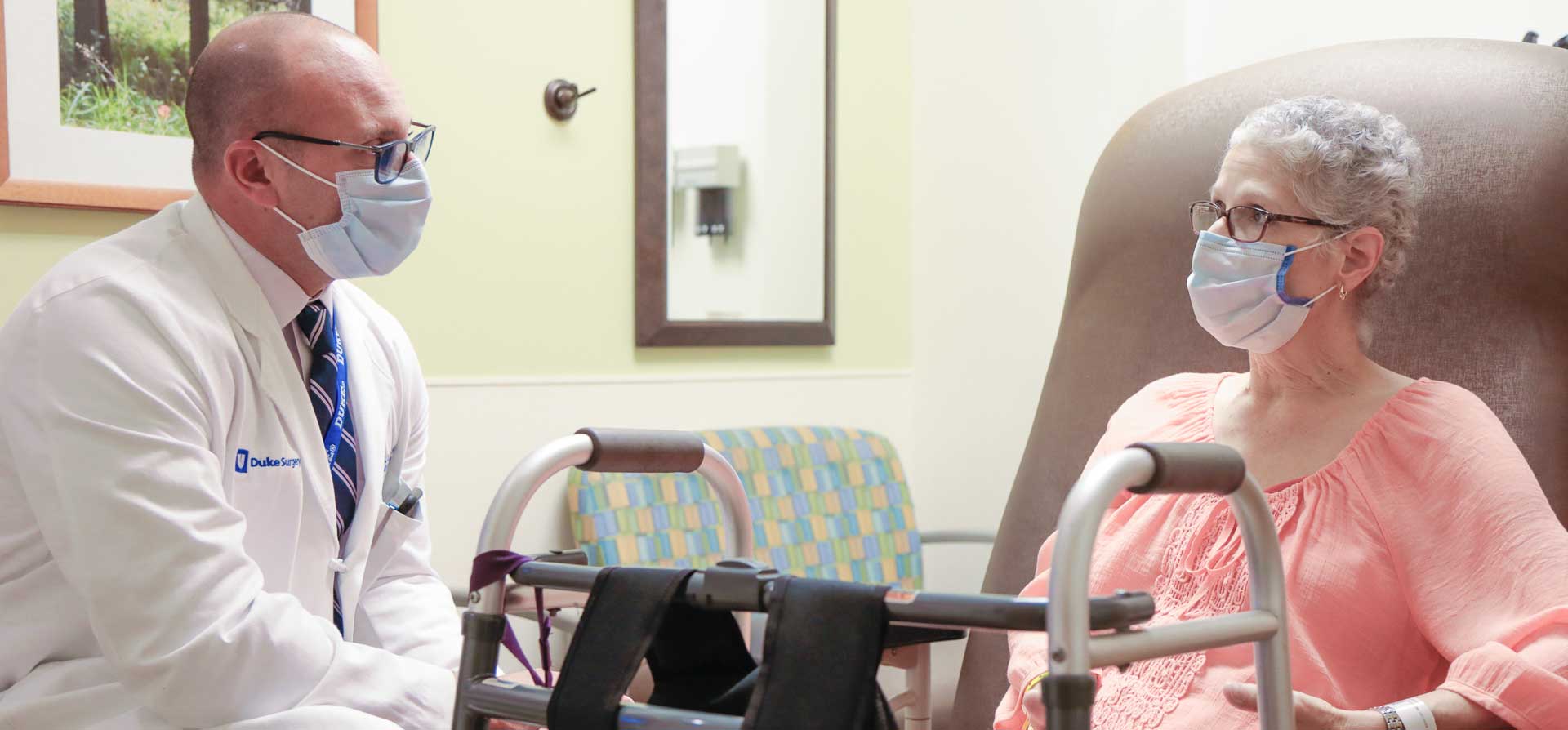 A Second Opinion at Duke Offers Hope
Mitchell followed her doctor's orders, but after two weeks at home, "I came to my senses and thought, 'I can't accept this. I can't just wait to die and do nothing.'" She asked her doctors for a referral to another surgeon, and soon after, she arrived at Duke to meet with Michael Lidsky, MD, a surgical oncologist. Right away, she felt at home. "It's such an environment of caring. No one, not once, seemed too rushed or too busy, and Dr. Lidsky was honest with me," Mitchell said. He told her he didn't know if he would be able to help, but he and the doctors in his group agreed it was worth a try. 
Dr. Lidsky explained, "She came to us completely hopeless. She told us, 'I just want to hear you agree there's nothing else that can be done.' That's not what we told her. We wanted to give her a chance. We wanted to see if we could do more, and, importantly, we restored hope." 
Before another attempt at surgery, Mitchell had more chemotherapy, which had always been challenging. She often suffered severe allergic reactions from the treatments and developed neuropathy in her feet. She knew that because of these problems, chemotherapy would not be an option for the long term and that surgery was her only hope.
An Experienced Team, Better Outcomes
To remove the tumor, the surgical team performed a Whipple procedure -- an aggressive operation in which parts of the pancreas, small intestine, stomach, bile duct, and surrounding lymph nodes are removed. The remaining organs are then reconstructed to restore normal function. Mitchell's operation was complicated by scar tissue from her previous surgery and the blood vessels near the tumor. To mitigate the risks, Duke vascular surgeons were also involved. "Having subspecialty trained surgeons in vascular surgery and pancreas surgery with significant experiences in such operations is uncommon at smaller hospitals. But large academic centers like Duke can offer patients benefits like these," Dr. Lidsky said. 
The Whipple procedure is notoriously complicated, but Duke has a successful track record. "These nuanced procedures take a team that has done a lot of them. The multidisciplinary and subspecialty experience we've accumulated certainly helps us, and centers like Duke that do a lot of pancreas resections have improved outcomes," said Dr. Lidsky. Mitchell directly benefitted from the team's surgical expertise. Her Whipple procedure was successful, and she sailed through recovery. 
Today, less than three months later, she feels "great." She participates in regular physical therapy sessions for her neuropathy, is back at work remotely 20 hours a week, and looks forward to spending time with family and friends. She is thankful for the support and prayers of loved ones, for Dr. Lidsky and his team, and for her decision to seek a second opinion at Duke. "If I hadn't reached out for a second opinion, I wouldn't be where I am right now."