Runner Competes in Marathon After Eyebrow Craniotomy for Brain Aneurysm
Duke Health Offers Advanced Surgical Options to Treat Brain Aneurysms
Hillary Lockemer smiles outside of her office in Raleigh, NC.
Overview
A morning run turned scary for Hillary Lockemer in July 2012, when the then 32-year-old suddenly became weak and passed out. Doctors diagnosed her with a ruptured brain aneurysm and performed a minimally invasive procedure to stabilize it, but the aneurysm returned nine years later. This time Duke doctors used an advanced surgical technique to repair it permanently. Seven months later, Lockemer of Raleigh ran the New York City marathon.
 "I never would have attempted to run a marathon before my aneurysm rupture," Lockemer said. "I did it to find out what my body can do. Despite all the challenges and how hard it was, I can still do it. I'm thankful."
Lack of Symptoms Make Brain Aneurysms Extremely Dangerous
Hillary Lockemer had no warning signs, symptoms, or risk factors before her 2012 aneurysm -- a weak place in an artery that bulges out -- ruptured. As a doctor herself, Lockemer knew she was lucky she survived. According to the National Institute of Neurological Disorders and Stroke, about 25% of people with a ruptured brain aneurysm die within 24 hours, and another 25% die within six months. Those who do survive may have permanent brain damage.
Choosing the Right Treatment
Doctors gave Lockemer two options to treat the ruptured aneurysm. 
The first, endovascular coiling, required vascular neurosurgeons to insert a catheter through a small incision in her groin and thread it through an artery to her brain. Then they would place tiny metal coils in the weakened artery to cut off blood flow and prevent the aneurysm from growing.
The other option was a craniotomy, which required a much larger incision so surgeons could navigate through her skull to reach the artery. Brain surgery made Lockemer nervous, so she chose the less invasive coiling procedure. 
"A lot of people prefer the endovascular approach because it is seen as being much less invasive than having an operation on your brain," said Duke neurosurgeon Ali Zomorodi, MD. "Unfortunately, endovascular coiling is not always as successful at eliminating the aneurysm for good." 
Coiling Requires Regular Monitoring for Aneurysm Recurrence
Because there is a 15% to 20% risk that an aneurysm will return following endovascular coiling, Lockemer required regular monitoring with imaging and doctors' visits. During a routine follow-up appointment in January 2021, Lockemer learned that her aneurysm had started growing again.
"I knew we needed to do something more permanent," said Lockemer. "Before I even talked to Dr. Zomorodi, I had already decided on a craniotomy this time. I didn't want to keep worrying about whether the aneurysm was going to come back."
Eyebrow Craniotomy Is Less Invasive, Allows Quicker Recovery
During that appointment, Lockemer was surprised to hear Dr. Zomorodi describe a surgical approach called an eyebrow craniotomy. During the procedure, also known as a supraorbital or keyhole craniotomy, surgeons make a hole smaller than a ping-pong ball at the eyebrow. This more direct approach means the brain doesn't have to be manipulated as much, and that makes recovery easier and faster. Once healed, the incision is nearly undetectable. Best of all, the risk of an aneurysm recurring after an eyebrow craniotomy is less than 1%.
"I was so glad I wouldn't have to shave my head," Lockemer said. "I was like, 'this is going to be so much better than I thought.'"
Lockemer underwent the surgery in April 2021. She was discharged the next day and was back to work full-time in six weeks. At two months post-op, she started training for her next big run. In November 2021, Lockemer ran the New York City marathon, her sixth marathon since the original aneurysm, with the Brain Aneurysm Foundation to raise awareness and funds for research.
Duke Offers Full Range of Treatment Options and Expertise for Brain Aneurysm Surgery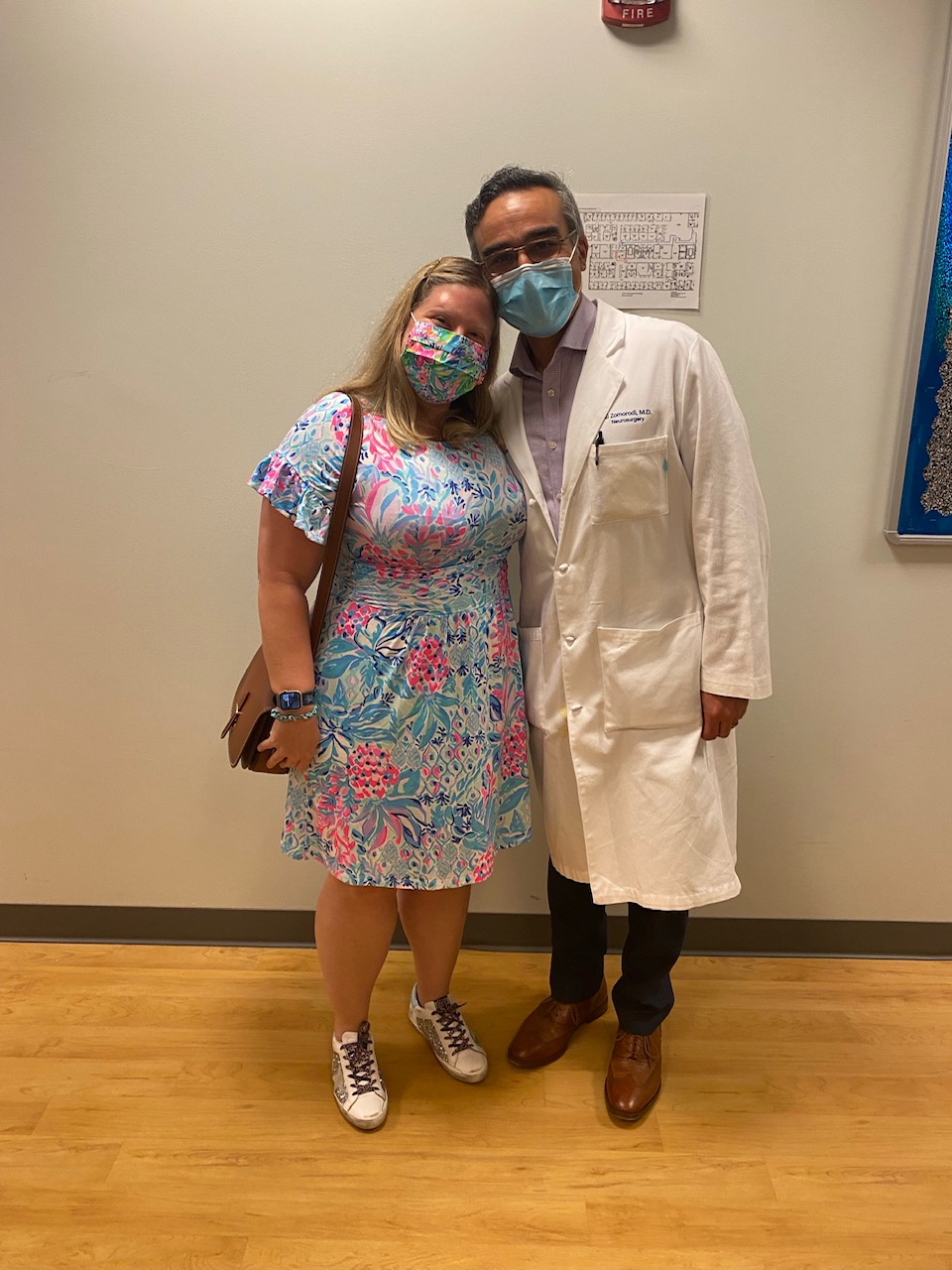 Not every center offers these more advanced treatments, Dr. Zomorodi said, but he wants people to know that these options are available.
"A craniotomy is not necessarily something to be afraid of," he said. "In the right hands, it can actually give you a better outcome and a better quality of life. After this surgery, you don't need continuous follow-up imaging and assessments. You'll probably go home the next day, and you may never have to worry about your aneurysm again."
Pictured: Hillary Lockemer and Dr Ali. Zomorodi pose together for a picture at Duke University Hospital.