Nasoalveolar Molding Corrects Cleft Lip and Palate with Fewer Surgeries
The NAM device slowly brings gum and lip segments together to reduce the number of surgeries required to fix a cleft. Results are more symmetrical when using a NAM device.
Overview
If your child is born with a cleft lip or cleft palate, a customized orthopaedic device called nasoalveolar molding (NAM) can help correct your child's cleft. It allows for fewer surgeries to achieve a symmetrical appearance. According to Pedro Santiago, DMD, a craniofacial orthodontist with the Duke Cleft and Craniofacial team who helped develop the NAM technique, "No other techniques can make the adjustments in the nose as the NAM molding does, and that's the most important structure to define the quality of results."
Is Your Child a Candidate for Nasoalveolar Molding?
While it's possible to identify a cleft lip and palate during a prenatal ultrasound, a definitive diagnosis can't be made until your child is delivered. About a week after birth, our pediatric plastic surgeons and craniofacial orthodontist evaluate your child's condition at the Duke Children's Hospital & Health Center to determine if NAM can effectively start to close a large or wide cleft. It's best to start the process as soon as possible, ideally within your child's first three weeks of life.
What Does the NAM Device Do?
If your baby is born with a cleft on one side (a unilateral cleft) or both sides (bilateral cleft) of their mouth, the NAM device can slowly bring the gum and lip segments together. The custom device looks similar to an orthodontic retainer and works by reducing the width of the cleft over several months. This makes surgical repair easier and reduces the number of procedures needed. If your child's nose is also affected, a small stent is placed to improve the overall symmetry and shape while minimizing scarring.
What Is the NAM Device Process?
After the initial evaluation, an impression of your child's mouth is taken. The painless process takes up to 10 minutes and leads to a custom NAM device your child wears at all times. It remains in place with skin-safe tape. You'll be trained by our doctors to care for the NAM device, which should only be removed once a day for cleaning.
Follow-up visits take place every one to two weeks, depending on the severity of the cleft. The NAM device slowly reduces your child's cleft two-to-three millimeters between each visit while also improving the shape and symmetry of the nose.
Typically, a unilateral cleft will improve over three-to-four months, while a bilateral cleft may take up to five months; the time frame is different for every child. In both cases, using the NAM device reduces the need for multiple future surgeries because the size of the gap is shortened. Some surgery will still be necessary as your child grows.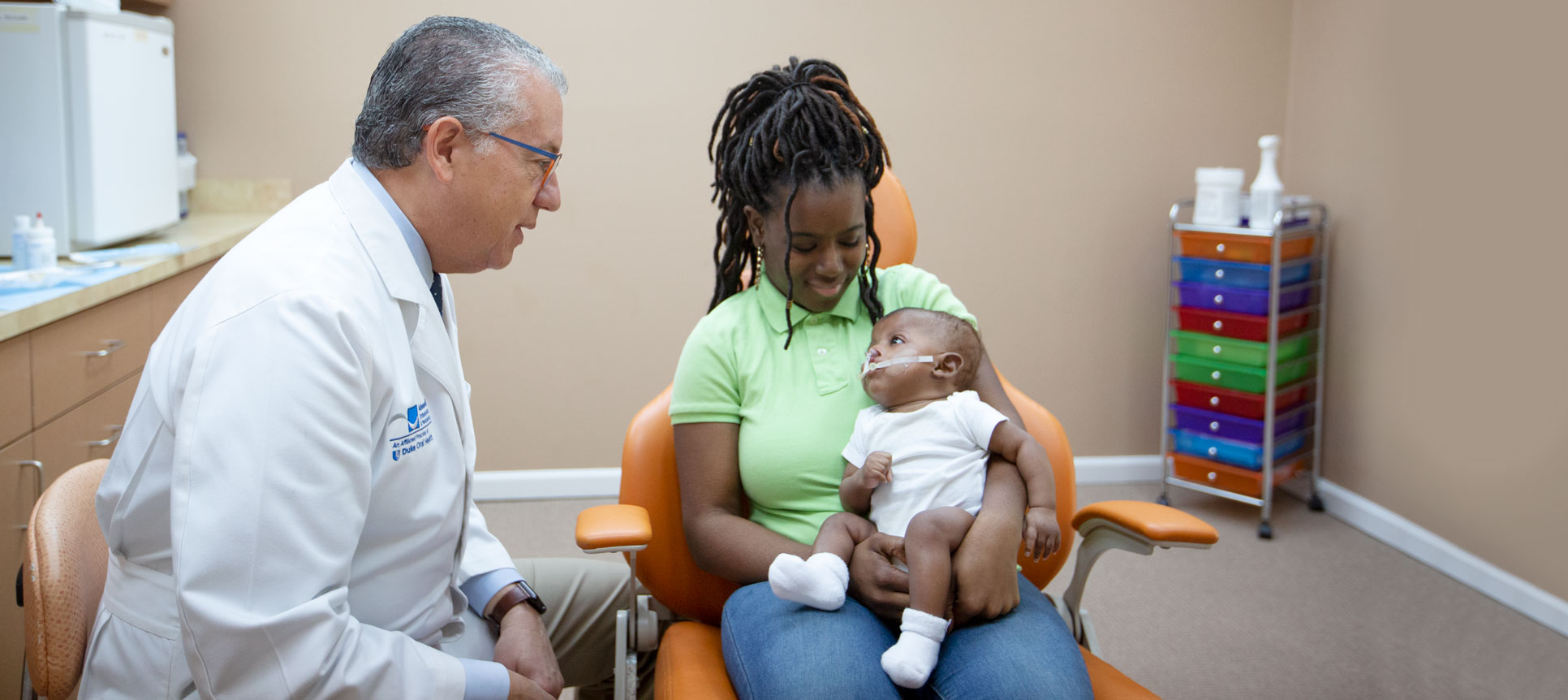 Support During the NAM Process
Infants may initially experience some discomfort from the NAM but quickly get used to wearing the device. Our doctors and speech-language pathologists offer advice between visits, including help with specialized feeding bottles and techniques. Duke also connects you with other families with children who have received NAM treatment to offer support. You can hear parents describe their children's experiences using a nasoalveolar molding device in this video.
After your child has cleft repair surgery, the number and frequency of follow-up procedures will vary. Annual follow-up visits allow us to track your child's progress and monitor for changes that may need additional treatment.
Duke's Cleft Palate Team
In addition to Dr. Santiago, Duke's cleft and craniofacial specialists include pediatric plastic and reconstructive surgeons Jeffrey Marcus, MD, and Alexander Allori, MD, MPH. They and other staff and providers make up the Duke Cleft and Craniofacial team, which is an American Cleft Palate-Craniofacial Association-approved team. This means it meets the safety and compliance standards of the national organization.
Pedro Santiago, DMD, is an orthodontist at Duke, and Jeffrey Marcus, MD, and Alexander Allori, MD, MPH, are pediatric plastic and reconstructive surgeons at Duke.