From the DukeHealth.org archives. Content may be out of date.
DukeHealth.org Offers Doctor Ratings, Reviews
More Information Helps You Make More Informed Decisions
Introducing doctor ratings and reviews on DukeHealth.org
Overview
Being an educated patient means having the information you need to make important decisions about your health care. That's why Dukehealth.org now publicly posts feedback from patients on provider profiles. You can see how patients rate their Duke doctors and read their comments about their experiences. We hope that openly sharing this information increases your confidence in making an informed choice about the right doctor for your care.
Providing Information Based on Patient Feedback
Patient-centered care has always been an integral part of Duke Health's mission. However, recent complex and sometimes difficult to understand changes in the health care industry mean people now need more information than ever to make educated decisions about their health care. 
Within that broad context, Duke Health has started publicly providing information it has always collected through patient surveys and used to improve performance.  "Sharing this information publicly is a natural progression of our efforts to be more transparent and to focus on providing the best care possible," said Dr. David Attarian, MD, Chief Medical Officer of the Private Diagnostic Clinic, Duke's multi-specialty faculty practice. "We are providing information based on feedback we've received from our patients."
Knowing more about patients' experiences with their doctor is a prime example. While doctor ratings and reviews are readily available on independent websites, it's sometimes hard to know if those reviews are from actual patients. In addition, many of those sites have only a few ratings per doctor, and rarely reach a number that would be sufficient to draw valid conclusions about a particular doctor.
"Now when people seek a physician on our Find a Doctor tool they find more than a name and a specialty," said Attarian. "You can dig further into a given doctor's profile and see what their star rating is and what it means."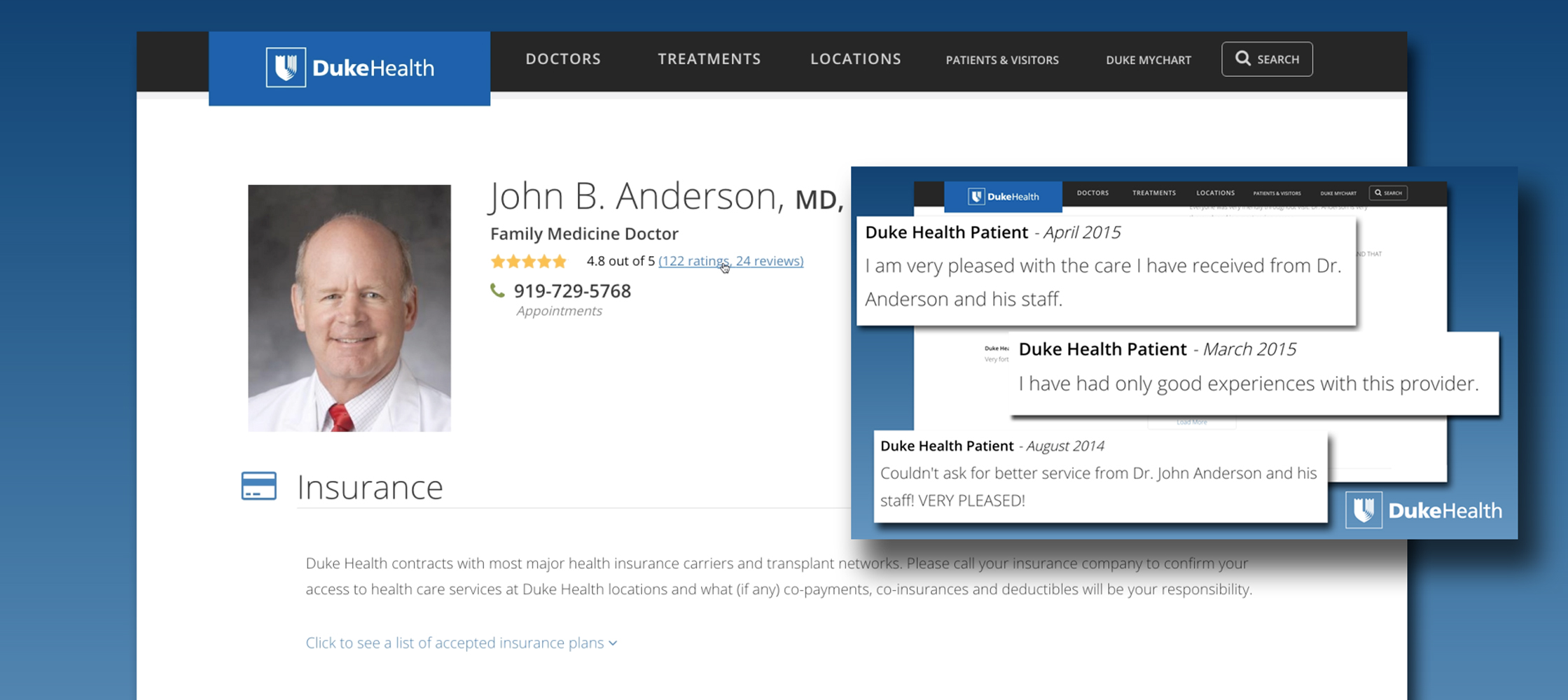 Validated, Unbiased Information
The star ratings are an average global rating of a provider by all patients who have completed a survey that is distributed following a clinic visit. The surveys are conducted by an independent patient satisfaction organization, which ensures you view unbiased information on Dukehealth.org.
Star ratings are based on patient responses to their overall experience with the provider. The responses are converted to a 5-point rating system, with 5 being the best possible experience. Star ratings are only displayed for providers who have accumulated 30 or more survey responses. This ensures the data you see on DukeHealth.org is statistically valid.
In addition to star ratings, all relevant comments for that particular provider are available for viewing.