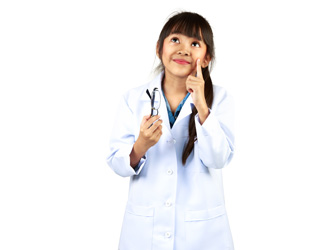 Painful, chronic, or recurrent headaches can be disabling and affect your child in many ways -- from their academic and athletic performance to their social and family life. Understanding the type of headache, and identifying the cause when possible, can help your child manage their headaches and, ideally, reduce headache severity and frequency. As pediatric headache specialists, we treat the most straightforward, as well as the most complex, headaches that affect children. We develop a comprehensive care plan to improve your child's headaches and improve their quality of life.
Find a Pediatric Headache Specialist
Treating Children with Chronic Headaches
When your child has recurring headaches, it's natural to worry about worst-case scenarios. Whether we are the first headache specialists your child visits, or you are coming for a second opinion, our pediatric headache specialists address your concerns and work with you and your child to help them feel better.
Migraines or Tension Headaches
In many cases, children experience primary headaches such as a migraine or tension headaches. These can be managed with an effective treatment plan designed to minimize their frequency and the severity of their symptoms.
Secondary Headaches that Result from Injury or Illness
If your child experiences secondary headaches (headaches that are caused by, or are a result of an injury or other illness), we coordinate the necessary evaluations with the appropriate pediatric specialists. We work together to provide headache treatment so your child gets relief.
Duke Children's Hospital and Health Center
Learn about the child- and family-centered care offered at Duke Children's Hospital and Health Center so you can prepare for your child's appointments.
Why Choose Duke
Extensive Experience
Our pediatric neurologists, headache pediatric nurse practitioner/pediatric mental health specialist, and social worker are able to help most children who follow a care plan to reduce headache frequency and severity. We place a high value on listening carefully to you and your child and making all of you feel comfortable and at ease. We'll apply our extensive experience and resources to help your family and child get back to a normal life.
Transition to Adult Headache Clinic
We see children up to age 21 and then transition them to our adult headache clinic.
Benefit from our Ongoing Research
Your child may benefit from access to our active research program to improve treatment for children and adolescents with chronic headache.
Best Children's Hospital in NC
Duke Children's Hospital & Health Center is proud to be nationally ranked in nine pediatric specialties.
Reviewed: 05/07/2018