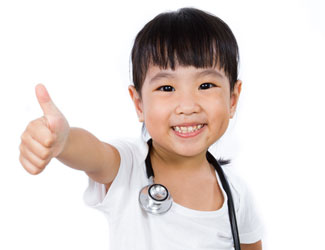 Duke pediatric gastroenterologists and dietitians diagnose and treat your child's celiac disease. We partner with you to create a gluten-free diet for your child and provide long-term follow-up care so your child maintains a healthy and active life. Follow-up care helps prevent long-term complications and is especially important when children do not get better despite adopting a gluten-free diet.
Find a Celiac Disease in Children Doctor
About Celiac Disease
Celiac disease occurs when the body cannot digest or break down gluten, a protein found in grains such as wheat, barley, and rye -- and the bread, pasta, and other foods made from them. Gluten is also found as an additive in common household products such as food coloring and salad dressings. Eating gluten makes the body's immune system create toxins that damage the small intestines, which absorb nutrients from food. Left untreated, celiac disease can lead to malnutrition, nutritional deficiencies, lower quality of life, and increased risk of other conditions. This can include:
Increased Risk of Bone Fracture: Celiac disease prevents the absorption of calcium and Vitamin D. This can lead to an increased risk of fracture and delayed growth. A gluten-free diet can improve the nutritional deficiencies that can impair bone health.
Increased Risk of Anemia: Celiac disease can result in lowered levels of iron; folate; vitamins B2 (riboflavin), B6, and B12; and copper. This can lead to nutritional deficiencies and anemia. A gluten-free diet can improve anemia and reverse nutritional deficiencies.
Duke Health offers locations throughout the Triangle. Find one near you.
Tests
Celiac disease is difficult to diagnose. Some people may have a mild sensitivity to gluten. In others, gluten kicks off an autoimmune response. Our celiac disease experts meet with you and your child to determine the cause of his or her symptoms and to make a diagnosis.
Family History
Your doctor will talk with you about your child's medical history. A family history of celiac disease increases the chance your child will have it. Children with an autoimmune or genetic disorder, such as diabetes or a thyroid condition, are at risk for celiac disease.
Physical Exam
Your doctor will perform a physical exam to check your child's health, including weight and developmental stage. The chronic fatigue, diarrhea, and malnutrition of celiac disease can slow a child's growth. The doctor may also check your child's skin for signs of an itchy rash on his or her bottom, elbows, or knees.
Blood Tests
A simple blood test checks for certain antibodies that can signal celiac disease. This test should be done when your child is eating a normal diet.
Endoscopy
A small flexible tube with a camera at the end allows your child's doctor to view the inside of their small intestine. This test lets the doctor look for damage and take small tissue samples to check under a microscope for signs of celiac disease.
Best Children's Hospital in NC
Duke Children's Hospital & Health Center is proud to be nationally ranked in nine pediatric specialties.
Why Choose Duke
Access to Clinical Trials
New medicines for celiac disease are being tested and studied. If appropriate, your child may be able to try an investigational medicine as part of a clinical trial. Talk with your doctor about this possibility.
A Team Approach
If your child has another autoimmune or genetic disorder, our pediatric celiac disease experts collaborate with other specialists to ensure your child receives the best care possible.
Family Support
Families who come to Duke for pediatric celiac disease care may have opportunities to share experiences and learn about the latest advances in celiac disease treatments.
Reviewed: 02/28/2019