From the DukeHealth.org archives. Content may be out of date.
Hip Dysplasia Surgery Puts Mountain Trekker Back on the Trail
Overview
Kara Hayslip, an athletic young woman, was sidelined by hip dysplasia pain. Her Duke doctor offered hip-preserving surgery as a way to head off hip replacement.
Hip Pain Halts Marathon Training
In 2014, Kara Hayslip was a 25-year-old with a strong sense of who she was: a divinity school graduate with plans for humanitarian projects in Nepal. An athlete who had played soccer, volleyball and other sports from childhood through college. A marathon runner-in-training with triathlons in her sights (she'd just bought a bicycle). Then she started having severe pain in her right hip.
She was diagnosed with a tear in her hip labrum, the ring of cartilage that outlines the socket of the hip joint. But nearly a year and several medical referrals later, Hayslip arrived at the office of Duke orthopaedic surgeon Dr. Steven A. Olson, MD, with an additional diagnosis: hip dysplasia.
Hip dysplasia occurs when the ball at the top of your thigh bone isn't securely fitted into the socket of your hip. "The bones didn't form correctly, so the ball tries to escape from the socket during movement," Dr. Olson said. "This stresses the joint and can damage the cartilage." When cartilage wears away, pain, swelling and stiffness associated with osteoarthritis result.
Hayslip was most likely born with hip dysplasia, although its symptoms didn't surface until young adulthood. "I never had any pain growing up, and I played lots of sports," she said. Learning she had a hip problem that would grow more painful as she got older was a big blow. "It felt like an identity crisis, because I had always been such an athletic person," she said. She put her travel and training plans on hold while she sought a hip dysplasia treatment that would return her to physical activity.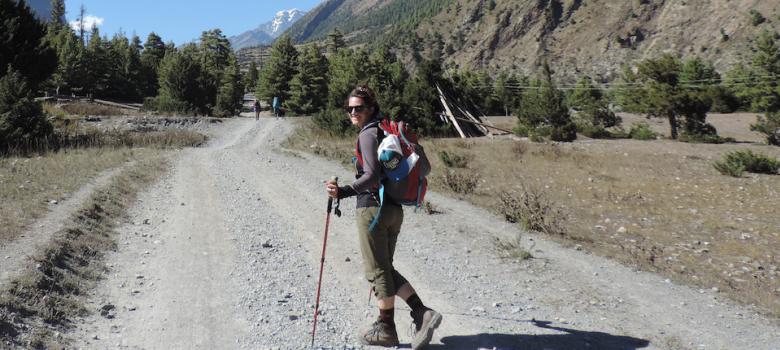 PAO Surgery Treats Hip Dysplasia but Spares the Joint
One option was hip replacement surgery, but Dr. Olson wanted to avoid it due to Hayslip's young age. Prosthetic hips may only last 15 to 20 years. If they have to be replaced, the surgery can be more difficult, have higher risks of complications and require longer recovery than the original surgery.
Instead, he suggested a joint-sparing procedure called periacetabular osteotomy (PAO). In PAO, doctors cut the hip socket free from the pelvic bone, rotate it into the correct position, then secure it in place with screws. Over time, the bones fuse back together, with the hip socket remaining in its corrected position.
Duke is one of only a few centers on the East Coast that regularly performs PAO surgery. Dr. Olson noted that the approach offers benefits to younger adults—typically those in their upper teens to mid-40s—who suffer severe hip dysplasia symptoms. "Patients are highly motivated to get relief, and the surgery offers an early intervention to prevent a lifetime of painful joint problems," he said.
Dr. Olson is also one few surgeons who perform hip arthroscopy at the same time as PAO;  this prevents the need for multiple procedures. In arthroscopy, the surgeon inserts a narrow, flexible tube equipped with a tiny camera and surgical instruments into a small incision near the joint. This allows the surgeon to examine and repair joint damage.
In February 2015, Dr. Olson and his team performed arthroscopy on Hayslip to repair the torn labrum in her right hip. Then they performed PAO surgery on the same hip to correct her dysplasia. (Her left hip wasn't affected.)
Return to Physical Activity Restores Hope
After the procedure, Hayslip began regular physical therapy sessions as part of her rehabilitation. A few months later, she was still relying on a crutch when devastating earthquakes struck Nepal, making her humanitarian plans even more urgent. "I couldn't do recovery work, since I was just barely starting to walk again," she said. "So I decided to raise money to distribute water filters."
With the help of some charitable partnerships, Hayslip did just that. Six months after her PAO surgery, she left for a year in Nepal, where she distributed water filters in earthquake-affected areas—and went mountain trekking in the Annapurnas.
In August 2016, Hayslip returned to Dr. Olson to have the screws removed from her hip. "She's had a terrific outcome," Dr. Olson said. "The cartilage of the joint was healthy and in good condition, which is important for future joint health."
She's also begun engaging in different types of physical activity, trying to find her new limits. And while she still has some numbness and muscle weakness, she no longer has the debilitating pain that stopped her in her tracks.  "I've played soccer. I went horseback riding this week," she said. "I'm starting to test it out—and so far, I really can't complain."
She's also headed back to Nepal to continue her charitable work—and to spend more time in rugged mountain terrain. "I'm doing Everest base camp in five weeks," she said.