From the DukeHealth.org archives. Content may be out of date.
Clinical Trial Saves Baby's Lungs
Baby Collier Proves He's a Survivor
Collier Hart with parents, Natalie and Eric Hart
Overview
Collier Hart sat smiling in his crib repeatedly saying, "Wa wa." Given a sippy cup of water, he threw back his head and drained it. He put his hands together, fingertips touching, and made the sign for "more." None of this is unusual for a 2-year-old, but it is for Collier. He spent the first 15 months of his life at Duke Children's Hospital after being born with severely underdeveloped lungs.
Against All Odds
"All the odds were against this kid," said William Malcolm, MD, a neonatologist and medical director of Duke's Special Infant Care Clinic. "He's thriving, and the reasons he's thriving are his parents, the amount of services we provided at Duke, and Collier himself. You get emotional about outcomes like this."
Before Collier was born, tests at Duke Children's Hospital showed a problem with the baby's lungs. When Natalie Hart went into premature labor, the neonatology team was ready.
On July 3, 2014, Collier arrived at 32 weeks weighing 4 pounds, 3 ounces — and crying. No one expected him to be able to cry. Natalie and husband Eric Hart were ecstatic even as their new baby was whisked away to be placed on a ventilator.
Collier's lungs were "stiff and couldn't expand," Malcolm said. "His heart had to pump extra hard to put blood in there to be oxygenated, so he developed pulmonary hypertension."
Six months later, Collier had not improved. He remained on the ventilator, had a feeding tube, was on painkillers and sedatives. He was on a cocktail of medicines his mother, Natalie, recalled. "Doctors were talking about him possibly having infant delirium. He was out of it, shaking his head a lot."

Callout
"He's an example of a success story that would not have happened in most children's hospitals across the country."
William Malcolm, MD, neonatologist
Would Collier Survive?
The doctors weren't sure Collier would survive.
"We wondered, first of all, was it the right thing to continue to push on with the medications we had for his lungs and for his heart," Malcolm said. "That's always a question, an ethical question, if we keep pushing, what will his outcome be? And the second question is, will he respond?"
The Harts made the wrenching decision to sign a Do Not Resuscitate order because the dangers of CPR were too great. They were told Collier might only have a few weeks left. 
Clinical Trial Marks Turning Point
The turning point was risperidone, an antipsychotic medication not approved for use in children. 
Duke is a clinical research site for the NICHD Neonatal Research Network and the Pediatric Trials Network, which places the hospital at the forefront of research for new therapies for babies that involve using medicines off-label.
A pediatric psychiatrist prescribed the drug to help with Collier's delirium. His response was remarkable. One by one, the painkillers and sedatives were removed. By early April, Collier was sitting propped up and laughing.
The doctors started talking about a tracheostomy so the painful tube down his throat could be removed. The surgery gave Collier a hole in his windpipe for ventilation, but it also gave his parents hope. For the first time, they could see their baby's beautiful face without tubes, masks, or tape. For the first time, someone mentioned working toward a release date.
Collier, however, was still taking medicines that usually are prescribed only for hospitalized children, and wasn't gaining enough weight. A May release date turned to June and June to July.
On July 3, Collier celebrated his first birthday at the hospital with a fish-themed party. Only one or two children a year stay at Duke Children's Intensive Care Nursery that long.
It wasn't until September of 2015 that the Harts were able to head home to Burlington, NC with their boy.
24-7 Access to Pediatric Specialists
Since Collier's release from Duke Children's Hospital, he has been readmitted to the hospital only three times, a return rate that Malcolm called astonishing. The doctor credited the Harts' diligence and the hospital's Transitions Medical Home Program. 
The Duke program uses pagers to give parents of high-risk infants 24-7 access to their child's doctors. If a child is in trouble, they can page a doctor to get advice, which cuts down on unnecessary emergency visits and hospitalizations, Malcolm said. 
Babies with feeding tubes or heart monitors who previously would have had to remain hospitalized can go home, where they have a much better opportunity to thrive, he said. Collier thrived.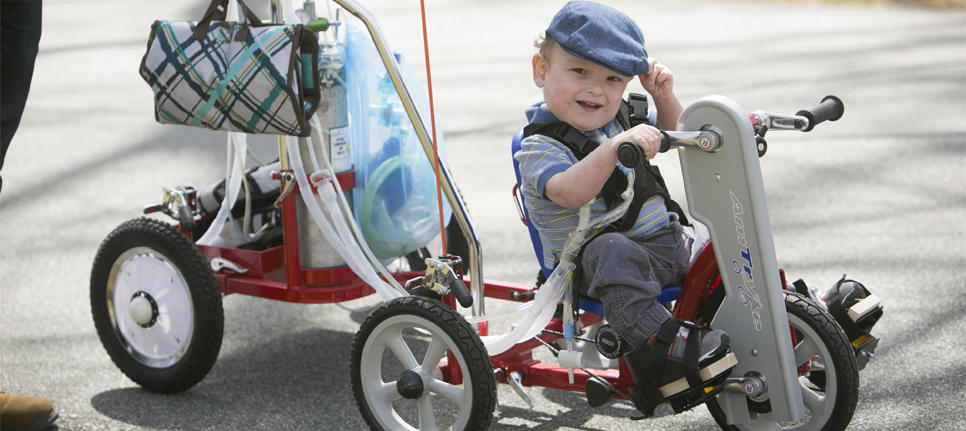 Typical Toddler, Remarkable Outcome
Malcolm has high hopes that Collier will be weaned from ventilation as he grows stronger and his lungs develop. Right now, Collier can eat some things by mouth. Malcolm predicted he won't need a feeding tube by next year. Collier, who also was born with a club foot and leg contractures, is crawling, using a walker and pushing himself around in a wheelchair.
Malcolm said he is proud of Collier's progress, but even more so his developmental outcome. "He's thriving in so many ways and progressing as you would expect any child to despite being in the intensive care nursery for a year. He's an example of a success story that would not have happened in most children's hospitals across the country."