From the DukeHealth.org archives. Content may be out of date.
Back to Cycling After Hip Replacement Surgery
Peter Leousis is back to cycling after hip replacement surgery at Duke
Overview
When Peter Leousis was facing hip replacement surgery, he chose a Duke orthopaedic surgeon experienced with the newer, minimally invasive approach. The competitive road racer knew it would be his fastest route back to cycling. Six months after hip replacement surgery, he's logging up to 385 miles per week with no pain.
Hip Injury Leads to Hip Arthritis
Three years ago, nationally ranked masters cyclist Peter Leousis had just won three races in eight days when he hit a pothole. "I was coming home from an 80-mile training ride, and went splat at 30 miles an hour. My hip socket was in four pieces."
Surgery repaired his hip socket, but the trauma left the 61-year-old Hillsborough resident at risk for avascular necrosis. The progressively painful condition occurs when blood supply to the bone is interrupted. "Once you lose the blood supply, the bone dies," explained Dr. Rhett Hallows, MD, Leousis' hip replacement surgeon at Duke Regional Hospital. "The cartilage over the top of the bone starts to collapse, which leads to arthritis."
Two years after his accident, Leousis said, "I started having pain in the same hip but in a different place." As the pain got progressively worse, "I knew I had to see an orthopedist." By the end of 2014, Leousis was on crutches. A hip X-ray confirmed his diagnosis. Doctors told him the femoral head, or ball of his hip joint had flattened and wasn't moving in the socket the way it should. "They said, 'you've got severe arthritis.' Basically, my only option was surgery."
Anterior Approach to Hip Replacement Surgery
As deputy director of a research institute, Leousis knows how to do his homework. He reviewed the different types of hip replacement surgery available, and chose the newer, anterior approach.
Traditional hip replacement surgery requires a long incision in the back (posterior) of the hip. The surgeon then cuts through muscle to reach the damaged hip socket. Hallows said the "anterior-based muscle sparing approach" is a minimally invasive alternative because the incision is made in the front, or anterior of the hip. This eliminates the need to cut through muscle.
As a result, people who undergo the anterior procedure start moving faster, and aren't limited by the hip movement precautions placed on people who undergo the traditional, posterior approach.
Choosing an Experienced Surgeon
Leousis met with several doctors in his quest to find the right surgeon to perform his hip replacement surgery. He knew people who had experienced good results under Hallows care. He chose Hallows because of his level of experience with the procedure.
"I felt like he knew what he was doing," Leousis said. "He had done enough of them. That was one of the questions I had asked. He had done 300 or more of the procedures. That's what you want."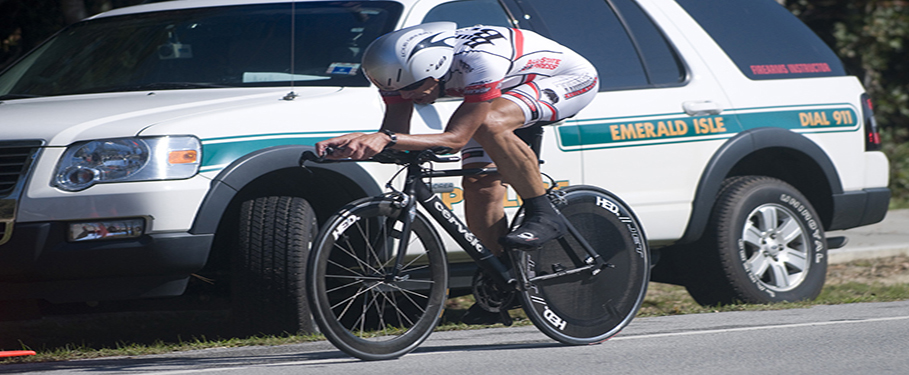 Managing Expectations After Hip Replacement Surgery
Hallows says it's common for people to want to push their limits after hip replacement surgery. I have to set expectations for them," he said, adding that people can learn what to expect about their level of activity after surgery by having a conversation with their doctor beforehand.
Since cycling is a low impact sport, Hallows told Leousis he should have no problems getting back to the sport he loves.
That's what Leousis wanted to hear. He was on his feet the day of surgery, and back to training in his garage within two weeks. "I may have pushed it too hard at times. It's hard not to." Two months after surgery, he was back to biking his 40-mile commute, five days per week. He plans to compete – and make the top five again -- in USA Cycling's Masters Nationals in 2016 and 2017.