From the DukeHealth.org archives. Content may be out of date.
Ankle Surgeon Sees Patient Care Potential for Google Glass
Overview
As an early Google Glass explorer, Duke Health orthopaedic surgeon, Selene Parekh, MD, sees many ways this wearable technology will soon enhance patient care.
Paragraph(s)
Google Glass is "smart" eyewear that offers features similar to a "smart" phone – it can take photographs, video, make phone calls, display internet-based information. The data is transposed onto the glass lens in the wearer's field of vision. The device is activated by voice command or a touch to the tiny computer's control pad on the side of the frame. 
Selene Parekh, MD, an orthopaedic foot and ankle surgeon, was accepted as a Google Glass explorer in 2013. In early 2014, he used the internet-connected glasses to broadcast an ankle replacement surgery live over the Internet during his annual charitable orthopaedic surgery training and education meeting in India.
"We had 15,000 to 20,000 people watching the procedure across the globe," says Parekh.  "That was the first time I said, 'wow, this isn't a gadget. This is a tool.'"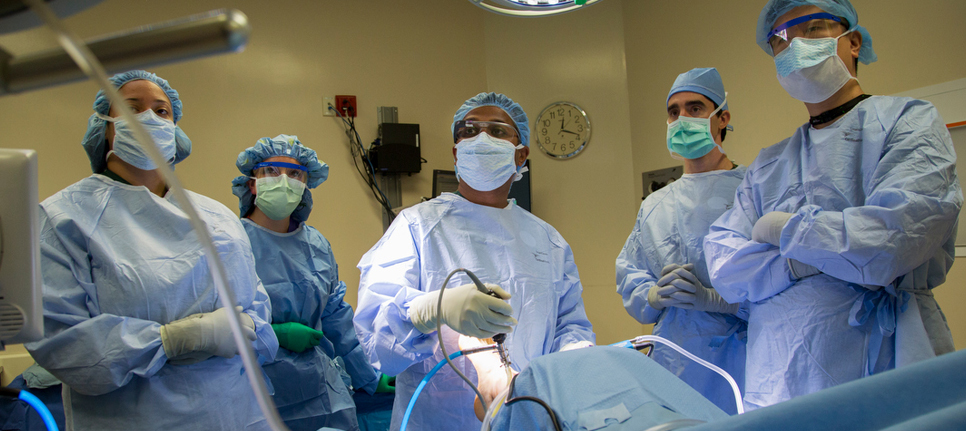 Google Glass: Improving Medical Education and Training
Paragraph(s)
Parekh was allowed to broadcast the surgery in India where there are no HIPAA constraints on patient privacy. Here, at Duke, he is only using Google Glass to archive his surgeries for his own library. Being able to film surgeries from his vantage point is a major advantage.
"Cameras have allowed us to film surgeries in the operating room for a long time," he said. "However, the surgical lights and the camera position are not ideal. You want the lens to be right where your head is in order to see exactly what I'm seeing.  With the older technology, I would fight with the camera to get a good view of the surgery. With Google Glass, the camera is right on my head and it sees what I see.  I no longer need to compete with the camera."
Live transmissions of video surgeries await the development of HIPAA compliant technologies to ensure the protection of patient privacy. Until then, Parekh envisions Google Glass being used for medical education and training. In the near future, he believes the technology will enhance patient care in the operating room, the hospital, and clinics worldwide.
Imaging results, vital signs and other test results can be displayed on the glass screen and guide surgeons through precise operations. Yet even more exciting is the possibility of tele-consultation.
Google Glass: A Powerful Tool for Enhancing Patient Care
Paragraph(s)
As an expert in ankle replacement surgery, Parekh says surgeons around the world -- who don't have the same experience because they don't see the same volume of patients -- may call upon him for guidance during a complex procedure. "A surgeon may use Google Glass to reach me or other experts, who would communicate through Google Glass. The expert would be able to see what the surgeon is doing and guide them through a challenging surgery."
Similarly, community clinics in rural or remote areas could have access to an expert medical opinion to confirm or make a difficult diagnosis.
Electronic medical records could be accessed in emergency situations, when a person is brought to the emergency room, or in the hospital. "When a code is activated, any nearby physician or nurse is required to run to that patient's room," explains Parekh. "With Google Glass, you can pull up critical information that could change the way you save that person's life."
Hospitals across the country are starting to explore ways to include Google Glass in their ORs, ERs, and clinics. They are using it to understand and enhance the patient experience, and their outcomes. HIPAA compliance issues are being carefully reviewed, and the best approach to using the technology, while protecting patient privacy is being considered.
"Google Glass is very powerful," says Parekh. "We have only begun to explore the possibilities it holds for enhancing patient care."
Read about Parekh's use of Google Glass in this New York Times article, "Google Glass Enters the Operating Room"